« previous post | next post »
My most vivid memory of being inducted into the U.S. Army in 1969 is learning a new expression. After we were sworn in, an NCO stepped out in front of us and said "Listen up!"  It was obvious what he meant — "attend to instructions from a superior" — and I heard that same phrase a thousand times over the next few months, but I'm pretty sure that I had never heard it in my life before that moment.
The phrase is extremely common these days. There are hundreds of examples in the current news  — one TV station uses "Listen Up" as the title for "your daily go-to source for the latest in weather, news and great lifestyle content to plan your day". Thousands of books have "listen up" in their titles.
So how could I have gotten to the age of 21 without having encountered it?
The OED provides a clue ("Draft additions 1997"):
4.g. slang (orig. U.S. Armed Forces). to listen up, to listen carefully, pay attention. Usually in imperative.
1970 W. C. Woods Killing Zone (1971) ii. 23 Now you men knock off the goddam chatter in there and listen up.
1973 T. O'Brien If I die in Combat Zone vii. 68 I got me two purple hearts, so listen up good.
1980 W. Safire in N.Y. Times Mag. 28 Sept. 16/2 'I'm only going to say this once, so listen up.' A Washington Star sportswriter put that now-hear-this command in the mouth of an imaginary pro-football star.
1986 T. Clancy Red Storm Rising (1988) xix. 244 Listen up, asshole! The guy who knows how to work this damned radio is dead, and I'm all you got.
1988 U. Holden Unicorn Sisters xi. 119 Listen up, that's Captain now.
1992 Metro (San Jose, Calif.) 7 May 37/1 I was struck by the feeling that the violence in L.A. was a graphic and chilling realization of the rage and frustration expressed by rappers..for a long time. Maybe now the suits in Washington will listen up.
The Google Books ngram viewer suggests that "listen up" took off in the 1970s and 1980s: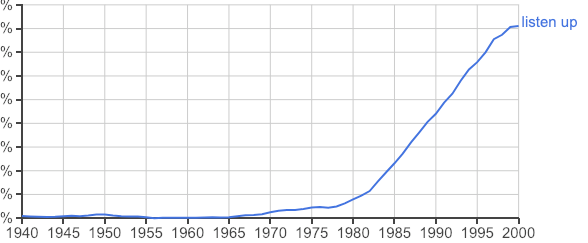 And the 1980 William Safire column that the OED cites continues:
The expression "listen up" is sweeping the pro-football coaching staffs, and is certain to embed itself in mucho macho lingo this year.
A search of Google Books suggests that the sports usage might be even older than the military one — in Eddie Dooley's 1933 novel Under the Goal Posts we see
His big underslung jaw assumed a deliberate angle. His sharp eyes scanned the faces of his charges. "Listen up!" he barked.
and
"[…] from now on you're gonna go, go , go until we take Sanford, or my name's not McBrair. We start right now … right here. Listen up now and get these assignments."
But I don't see any other examples in books between 1933 and 1970.
This case illustrates an interesting general point about the meaning of words and phrases. The metaphorical extension of up in listen up is a plausible one. My reaction to hearing it for the first time was just "that's interesting", whereas I would have been seriously puzzled and surprised if the idiom had been "listen down" or "listen out" or "listen over" or "listen on" or "listen off".
But like many "phrasal verbs" (= combinations of verbs and intransitive prepositions), "listen up" is not fully compositional. There's a reason that a web search for phrasal verbs turns up mostly help for L2 learners. And there's a lot to learn — The Oxford Dictionary of Phrasal verbs claims to offer "7,000 British and American phrasal verbs explained in words you understand".
Listen up is in there — but the section on meanings of up doesn't really help, despite listing 13 figurative or metaphorical extensions. (I've given only the headings in the list below, and simplified some of the example sentences):
The literal meaning of up is movement upwards, from a lower to a higher position, so it occurs with many verbs describing movement, such as climb up, jump up, look up, and sit up. It is also used with verbs of lifting to express the idea of raising something to a higher level (for example, pick up, lift up, snatch up). You will also find it used to express the related ideas of 'increase' and 'improvement'.
Increasing: Gas is going up next week.
Improving: Things are starting to look up.
Supporting: I can back up what I said.
Preparing: You should warm up before exercising.
Creating and constructing: She made up an excuse.
Completing and finishing: We have used up our coal reserves.
Damaging and destroying: She tore up the letter.
Stopping, delaying and disrupting: The police broke up the demonstration.
Things happening: A serious problem has come up.
Approaching: I crept up behind her.
Dividing and separating: Slice up the tomatoes.
Gathering and collecting: Can you collect up the glasses?
Fastening: I tied up the parcel.
Quasiregularity (or quasicompositionality) strikes again.
---