« previous post | next post »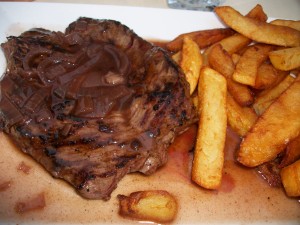 In "Believed ham", I asked
When did French-language menus start using possessive pronouns, in constructions like et ses/son/sa X "and its/their X", to describe secondary or accompanying ingredients? When did English-language menus start copying this construction? And is it as awkward and odd in French as it is (restaurant tradition aside) in English?
The picture, from a restaurant-reviewing blog, illustrates an "Onglet de black Angus avec ses frites" ("Black Angus hanger steak with its fries"). The only connection that the fries have with the steak is that they're served together — so in what sense are they "its" fries?

Of course, possessive pronouns, both in French and in English, are not limited to cases of literal possession or ownership. When a square-dance caller tells you to "swing your partner", the reference is to whoever happens to be on your right (if you're male) or on your left (if you're female) at that point in the evolution of the dance. A similar notion of arbitrary correspondence is involved in phrases like "the average distance between a galaxy and its nearest neighbor" or "on the shoulders of their predecessors".
But partner, neighbor, and precedessor are relational concepts, which express their correspondences as figurative possession: steak and soup are not. So I feel that there's something odd about the possessive in "onglet avec ses frites", or in "soupe de poissons avec sa rouille", or in a recipe for "Brochet de lorraine et sa mayonnaise" ("pike lorraine and its mayonnaise"), where the mayonnaise is just added at the end of the process ("… servir avec la mayonnaise" = "… serve with mayonnaise").
Here's a slightly more elaborate example from a restaurant review in French
Ensuite, le fameux oeuf poule de la ferme Carrus, littéralement « pourri » de truffe mélanosporum sur une purée de champignons et truffe blanche d'Italie, flanqué de sa briochine tiède et d'un cappuccino à boire
Then, the famous hen's egg from the Carrus farm, literally "rotted" (?) with black truffle on a puree of mushrooms and Italian white truffle, accompanied by its warm roll and a cappuccino to drink.
The author could have written "flanqué d'une briochine tiède" ("accompanied by a warm roll"), in parallel with the following "et d'un cappuccino à boire" ("and by a cappuccino to drink"). Why is the roll possessed but not the coffee? Because it's on the same plate? Because each egg gets its corresponding roll?
Similar constructions exist in the more elevated regions of English food-talk. As Rubrick noted in the comments on the earlier post, menus don't feature "fish and its chips" or "bangers and their mash", or a "cheeseburger and its fries". But here's Mimi Sheraton, "From haute cuisine to brasserie style", NYT 1/30/1981:
Worthwhile pates include the terrine of eel with its sauce Cressoniere, the pale and delicate terrine of sweetbreads sparked with lacy strands of blanched orange rind and the spicy terrine of truffled duck.
Or this dinner menu, which features an "Asparagus Cream Soup: With its Puff Pastry Dome", and a "Carribean [sic] Lobster Tail: Sautéed with Vanilla Pod, Served on its Bed of Carrot". Again, what special connection does the terrine of eel have to its sauce, or the lobster tail to its carrots, that would justify the possessive?
Mollymooly wondered
Is the "[main] avec son/sa/ses [garnish]" an extrapolation from "dans son jus"? The English near-equivalent "stewed in its own juice" is nowadays only ever used metaphorically. And "dans son jus" has its own metaphorical senses.
This makes sense to me (though "stewed in its own juice" is by no means always metaphorical these days). The French expression "cuit dans son jus" is certainly an old one — the 1694 Dictionnaire de l'Académie françoise has "Bœuf à la mode , C'est du bœuf assaisonné & cuit dans son jus."  And similarly, the recipe for boiling "spinage" in the Cooks and Confectioners Dictionary (1723) tells us to
Wash and drain your Spinage, put it into a Pot or Pipkin; then set the Pot into a Kettle of Water, and make it boil until the Spinage is soft, putting no Liquor to the Spinage, but let it stew in its own Juice.
And in The Workes of that Famous Chirurgion Ambrose Parey (1649) we learn that
I have prooved by experience, that the warts that grow on the hands, may bee cured by applying of Purslain beaten or stamp'd in its own juice.
But in such cases, the juice or jus indeed "belongs" to the meat or the vegetable. If Molly is right, this type of possession has been generalized in (the more pretentious registers of French and English) menu-speak to sauces whose origin is entirely unconnected to the materials they are applied to, and also to discrete objects that are simply placed beneath, on top of, or next to the featured ingredient.
So my question remains: When did this happen?
Update — Michaela Heinz, Le possessif en français: Aspects sémantiques et pragmatiques, 2003, has a section on "le style 'menu'". She notes that the first caricatured uses of such possessives seem to date from the 1970s. The fact that the style can be caricatured in French suggests that it has the same chichi tone in French as it does in English; and if the first caricatures don't appear until the 1970s, perhaps the construction itself is not a lot older than that.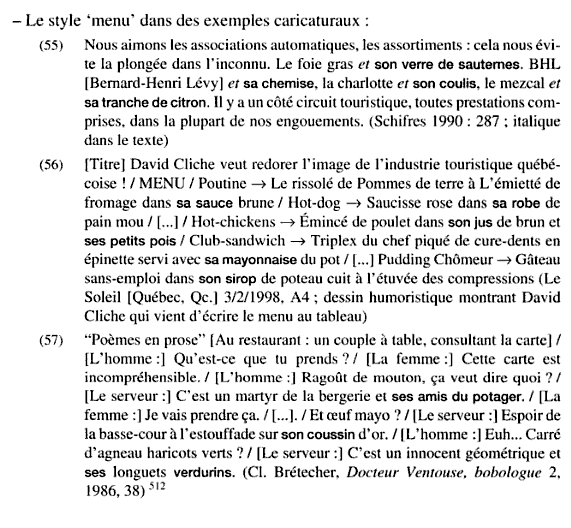 ---