« previous post | next post »
Ladies and gentlemen, here it is: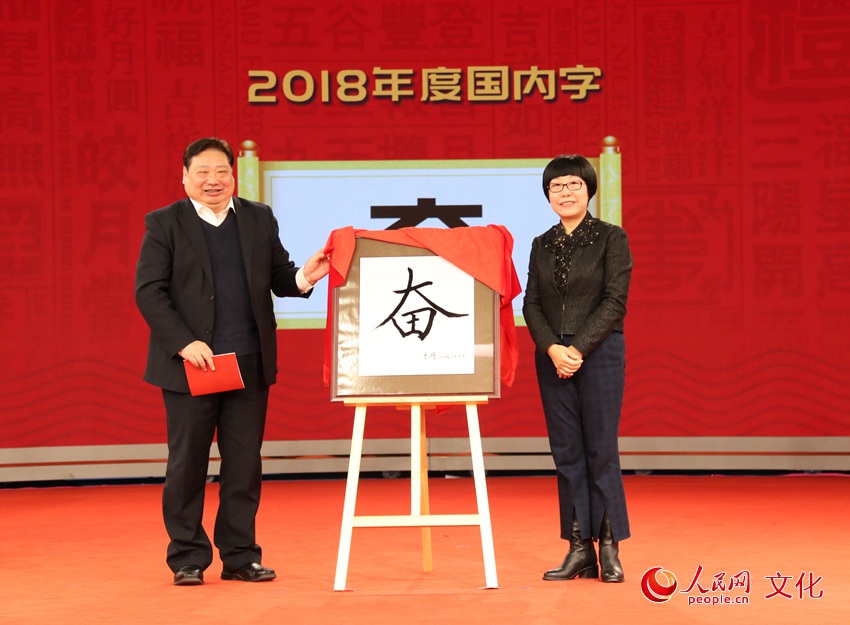 fèn 奋 ("striving") — the traditional form of the character is 奮, but that gives it an entirely different feeling, doesn't it?  I mean, you really have to "strive" to write the traditional form.  The simplified form consists of 8 strokes, the traditional form of twice that many, 16.  Never mind 8 or 16 strokes, grammatically you can't use this character by itself because morphologically it is a bound form, which means that it can only be used in combination with other characters, e.g., fèndòu 奋斗 ("struggle; strive; contend; combat").
What a surprise!  I never would have imagined that such a politically laden character would have captured the imagination of the Chinese people and peaked in the year 2018.  The choice sounds more like an exhortation to me.
Equally unimaginative, prosaic, and politically mundane is the domestic "Word of the Year" (it looks like a phrase to me):
gǎigé kāifàng sìshí nián 改革开放四十年 ("the 40th anniversary of reform and opening-up")
How inspiring!  We'll have to do this again on the 50th anniversary.
Next comes the international Chinese character of the year (I don't know why they need to have both a domestic character and word and an international character and word of the year, but it seems to be an imperative of great importance):
tuì 退 ("exit")
What, you ask?  Why is everybody clamoring about "exiting"?  Oh, it's America exiting the Iran nuclear agreement and the United Nations Human Rights Council.  Even more egregious is UK doing the Brexit.  Oh, and if we want to say "exit" in Mandarin, we should say tuìchū 退出, not just tuì 退.
Now, for the international word (i.e., phrase) of the year:
màoyì mócā 贸易摩擦 ("trade friction")
That really makes you sit up and pay attention, and everybody knows that it's about the trade war between the US and China.  And, hey, America might even combine the international character and the international word (i.e., phrase) of the year by exiting from WTO!
Selected readings
"'Striving' chosen as Chinese character of 2018", Xinhuanet (12/21/18)
Here's the same content in Chinese from China Daily.
"Chinese characters and words of the year for 2015" (12/20/15)
"Morpheme(s) of the Year" (12/17/11)
"'Words / Characters of the Year' for 2013 in Taiwan and in China" (12/26/13)
---