« previous post | next post »
Yesterday's xkcd:
Mouseover title:
"Oh right, eye contact. Ok, good, holding the eye contact … holding … still holding … ok, too long! Getting weird! Quick, look thoughtfully into space and nod. Oh, dammit, said 'yeah' again!"
For a more elaborate — and more fully mathematicized — take on the same problem, see "Conversational Game Theory, the cartoon version", 11/24/2003.
And then there's today's xxkcd: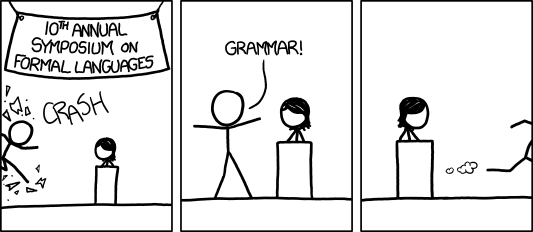 Mouseover title:
"[audience looks around] 'What just happened?' 'There must be some context we're missing.'"
---