« previous post | next post »
Metaphor watch (from today's NYT): Trump's presidency is "a kind of perpetual arm-wrestling match between a capital full of institutions & a man set on bulldozing them, bending Official Washington to his rhythms & mores with every overnight Twitter missile & gilded indiscretion."

— David Greenberg (@republicofspin) December 4, 2018
From the discussion on Facebook: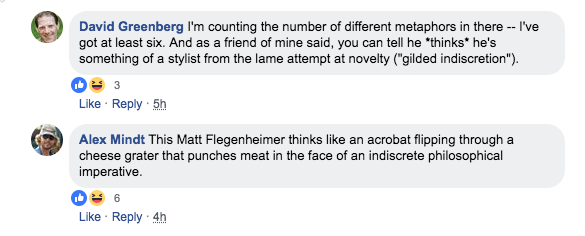 The quote is from Matt Flegenheimer, "In City She Shook, Stormy Daniels Speaks About Path to 'Full Disclosure'", NYT 12/3/2018. The full paragraph
From its inception, the Trump presidency has doubled as a kind of perpetual arm-wrestling match between a capital full of institutions and a man set on bulldozing them, bending Official Washington to his rhythms and mores with every overnight Twitter missile and gilded indiscretion.
In fairness to Mr. Flegenheimer, at least half of recent uses of arm-wrestling and bulldozing in the NYT have been metaphorical, so (as usual with mixed metaphors) he probably didn't have the original meanings in mind at all.
The rest of the article is relatively literal, though it does talk about "dissect[ing] a tome" — and also treats us to nice instance of NYT taboo-skirting:
"You have turned ethics and values and morals around, upside down, in this country," Ms. Quinn said at one point. "You — Stormy Daniels the porn star — are the one who is the ethical person."
Ms. Daniels smiled. "How messed up is that, yo?" she responded. (She did not say "messed.")
[h/t Geoff Nunberg]
---