« previous post | next post »
At least I think that's what happened here. Gita Jackson, "Tumblr's New Algorithm Thinks Garfield Is Explicit Content", Kotaku 12/4/2018:
Yesterday, Tumblr announced that it will ban all adult content starting December 17th. As users logged into their accounts, they have seen that some of their posts now have a red banner across them, marking them as flagged for explicit content. The problem is, a lot of these posts are hilariously far from being pornographic.
It's pretty clear that these flags are being done based on an algorithm, and the algorithm is finding false positives. Here's a list of things that got flagged: a fully clothed woman, a drawing of a dragon, fan-art of of characters from the anime Haikyu!!, art from the children's book The Princess Who Saved Herself that the author of said book posted, a drawing of a bowl of fruit with mouths, a video of abstract blurs, Garfield.
GARFIELD IS STRAIGHT UP ILLEGAL ON TUMBLR PASS IT ON pic.twitter.com/GPxDsbcjoJ

— shan murphy (@heyshanmurphy) December 3, 2018
Some additional coverage, mostly focusing on perceived problems with the policy rather than its implementation — "Fandom's Fate Is Not Tied to Tumblr's: If Tumblr doesn't learn from history, it will be headed for the same fate as LiveJournal"; "Tumblr's porn ban is depressing. Here's why."; "Before Tumblr announced plan to ban adult content, it was a safe space for exploring identity".
Without any evidence, I'm going to guess that Tumblr execs were freaked out at being removed from the App Store over child porn, and accepted the assurances of some overconfident techies whose only knowledge of pattern recognition is that Deep Learning Rulez. So surely pushing a bunch of porn sites through PyTorch would solve the problem, right? Or then again:
I like imagining the Tumblr anti-porn bot was purposefully badly written. Like some rogue chaotic-good developers that wanted to show the higher ups that it's a horrible idea. Training the AI on Garfield comics and fully dressed women lul

— Dani `$ yarn tart` (@webdevdani) December 5, 2018
No doubt they'll manage to lower the false positive rate over time — but that may not be enough to save the platform.
So far the ban only applies to images, not to text — though allegedly Tumblr's own text-only announcement of the new policy was flagged? — so we don't have any funny examples of banning bible passages or nursery rhymes. But given Apple's continued policing of the App Store, such things will no doubt be increasingly common in our future.
There's a serious general problem here — how to detect Bad Things on the internet, and what to do about them? And this episode adds to the evidence that we're very far from having real solutions.
Update — as noted in the comments, the IPA chart is apparently also flagged as pornographic: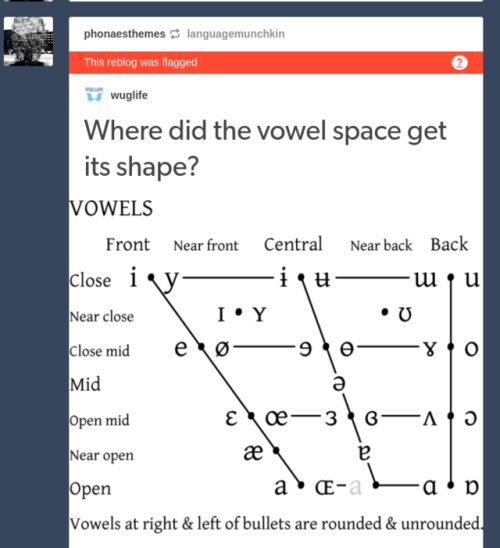 ---