« previous post | next post »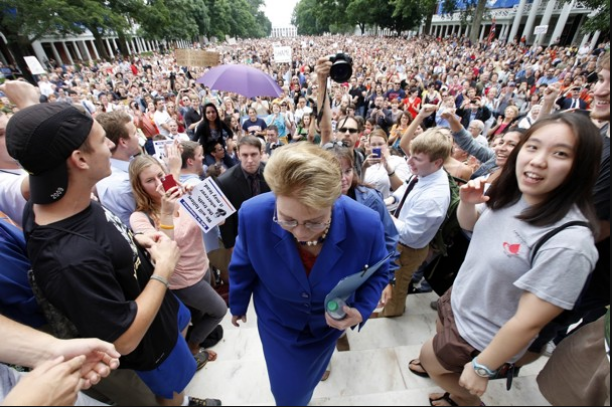 "Rector Dragas' Remarks to VPs and Deans", 6/10/2012
"Teresa Sullivan's statement to the U.Va. Board of Visitors", 6/18/2012
Scott Jaschik, "Early Exit at U. of Virginia", Inside Higher Ed 6/11/2012
Scott Jaschik, "Fired for Protecting Languages?", Inside Higher Ed 6/18/2012
Susan Resneck Pierce, "Lessons from Virginia", Inside Higher Ed 6/18/2012
Scott Jaschik, "The E-Mail Trail at UVa", Inside Higher Ed 6/20/2012
Kevin Kiley, "Going Another Round? UVa board poised to reappoint ousted president, but not without objection", Inside Higher Ed 6/22/2012
Johann Neem, "Disruptive Innovation: Rhetoric or Reality", Inside Higher Ed 6/26/2012
Kevin Kiley, "U.Va. Board Reinstates Sullivan", Inside Higher Ed 6/26/2012
Christopher Shea, "Inside the turmoil at the University of Virginia", WSJ 6/18/2012
Valerie Bauerlein, "Ruckus at the Rotunda", WSJ 6/21/2012
"The Virginia Fracas" WSJ Editorial 6/25/2012
Kieran Healey, "The More or Less Unanimous Declaration of the Board of Visitors", Crooked Timber 6/20/2012
Karin Kapsidelis, Michael Phillips, "UPDATE: U.Va. board reverses decision, brings back Sullivan", Richmond Times-Dispatch 6/26/2012
Richard , "University of Virginia Reinstates Ousted President", New York TImes 6/26/2012
Daniel de Vise and Anita Kumar, "Teresa Sullivan ouster: 33 faculty leaders protest her dismissal from University of Virginia presidency", Washington Post 6/13/2012
Daniel de Vise and Anita Kumar, "U-Va. board: President Teresa Sullivan's removal came after 'extended' talks over school's health", Washington Post 6/13/2012
Daniel de Vise and Anita Kumar, "U-Va. Faculty Senate to meet in emergency session Sunday over Teresa Sullivan's ouster", Washington Post 6/17/2012
Anita Kumar and Daniel de Vise, "U-Va. donors threaten to withhold funds over ouster of president", Washington Post 6/17/2012
Valerie Strauss, "Is University of Virginia's 'reputation gap' growing?", Washington Post 6/17/2012
Editorial, "U-Va. board has an obligation to community", Washington Post 6/18/2012
Daniel de Vise and Anita Kumar, "Leadership drama consumes U-Va.; board names Zeithaml interim president", Washington Post 6/19/2012
Anita Kumar and Daniel de Vise, "U-Va. board appoints interim leader; McDonnell to talk with reporters", Washington Post 6/19/2012
Anita Kumar and Daniel de Vise, "U-Va. vice rector resigns amid uproar over Teresa Sullivan's ouster", Washington Post 6/19/2012
"University of Virginia President Teresa Sullivan's ouster: The key players", Washington Post 6/19/2012
Valerie Strauss, "The U-Va. mess: Sign of the (bad) times", Washington Post 6/19/2012
Jena McGregor, "University of Virginia's difficult leadership transition", Washington Post 6/19/2012
Daniel de Vise and Anita Kumar, "E-mails show U-Va. board leaders planning Teresa Sullivan's exit", Washington Post 6/19/2012
Anita Kumar and Daniel de Vise, "Sullivan supporters plot to reinstate her as U-Va. president", Washington Post 6/20/2012
Daniel Willingham, "Why governing board gets an 'F' for Sullivan 'project'", Washington Post 6/21/2012
Anita Kumar and Daniel de Vise, "U-Va. dean tapped for interim president suspends preparations for new job", Washington Post 6/22/2012
Daniel de Vise, Jenna Johnson and Donna St. George, "Teresa Sullivan: The ousted U-Va. leader who may regain the post", Washington Post 6/26/2012
Petula Dvorak, "The U-Va. president drama: Is it the Queen Bee scenario?", Washington Post 6/26/2012
Valerie Strauss, "The real U-Va. story: The 99% win", Washington Post 6/26/2012
Richard Pérez-Peña,, "Anger Builds Over Dismissal of University of Virginia President", New York Times 6/18/2012
Richard Pérez-Peña, "University of Virginia Names Interim President", New York Times 6/19/2012
Tamar Levin and Richard Pérez-Peña, "2 New Resignations Rock the University of Virginia", New York Times 6/20/2012
Tamar Levin, "Public Universities See Familiar Fight at Virginia",  New York Times 6/25/2012
Karin Kapseidelis, "McIntyre dean named interim U.Va. president after marathon meeting", Richmond Times-Dispatch 6/19/2012
Michael Paul Williams, "U.Va. situation requires intervention", Richmond Times-Dispatch 6/19/2012
Olympia Meola, "U.Va. vice rector Mark Kington resigns", Richmond Times-Dispatch 6/19/2012
"U.Va. soap opera", Richmond Times-Dispatch 6/20/2012
Charlie Tyson, "@RectorDrago, in 140 characters or less", The Cavalier Daily 6/14/2012
"Comp. Sci. Prof. William Wulf's resignation letter", The Cavalier Daily 6/19/2012
"Midnight Judges", The Cavalier Daily 6/20/2012
Charlie Tyson, "Sullivan resignation spotlights long-running debate about online education", The Cavalier Daily 6/21/2012
"Statement from the President and Former President of the Thomas Jefferson Society of Alumni", The Cavalier Daily 6/24/2012
Graham Moomaw, ""'Unimportant alum' parodies Dragas on Twitter", The Daily Progress 6/16/2012
Ted Strong, "Casteen, Toscano call for Sullivan's reinstatement", The Daily Progress 6/17/2012
Paul Tudor Jones II, "Aspiring to achieve greatness", The Daily Progress 6/17/2012
"Morrissey urges legislative inquiry into U.Va. turmoil", The Daily Progress 6/19/2012
Ted Strong and Aaron Richardson, "UVa board selects commerce dean as interim president", The Daily Progress 6/19/2012
Karin Kapsidelis, "U.Va. interim president does not support Sullivan ouster",  The Daily Progress 6/19/2012
Ted Strong, "UVA board set to meet, could well reinstate Sullivan", The Daily Progress 6/21/2012
"Statement from UVa rector Helen Dragas", 6/21/2012
Graham Moomaw, "Governor tells UVa board to resolve crisis Tuesday – or else", The Daily Progress 6/22/2012
Ted Strong, "Lawn rally  precedes big BOV meeting", The Daily Progress 6/25/2012
John Lauerman and Oliver Staley, "Jefferson's Virginia in Turmoil as Board Replaces Ousted Leader", Bloomberg News 6/19/2012
Sandy Hausman, "Finger-Pointing Follows Ousting of U.Va. President", All Things Considered (NPR) 6/19/2012
Neil Vigdor, "Did Greenwich tycoons take down a major university president?", Greenwich Time 6/19/2012
Rob Graham, "Lone Visitor Who Voted Against Zeithaml Releases Statement", WINA Newsradio 6/19/2012
David Karpf, "UVA Board's Lazy Business Sense", Huffington Post 6/20/2012
"U.Va.'s Rector should resign", Virginian-Pilot 6/20/2012
Hawes Spencer, "Zeithaml in charge? Dragas pick embraces Simon, pans Sulli-sack", The Hook 6/20/2012
Hawes Spencer, "Dragas to Kington: 'Why we can't afford to wait'", The Hook 6/20/2012
Hawes Spencer, "Sullivan Oustermath:  A timeline of UVa in Tumult", The Hook 6/25/2012
Siva Vaidhyanathan, "Strategic Mumblespeak", Slate 6/15/2012
"Governing Board's Ouster of University of Virginia President", AAUP 6/16/2012
---
An interesting speculation from early in the process:
Anne-Marie Angelo, "A theory of what led to Sullivan's ouster", 6/13/2012
With yesterday's release of FOIA-based emails, which "show that one reason board leaders wanted to move quickly was the belief that UVa needed to get involved in a serious way with online education", this speculation gains some support. As far as I know, however, there is still no concrete evidence that "Goldman Sachs's Education Management Corporation, a for-profit education provider, wanted to make or made a bid to offer online education through UVA" and that Sullivan's reluctance to go along triggered the decision to remove her.
A very different conspiracy theory, connecting a different set of dots to form a very different picture, has been put forward by Anthony Watts, a leading climate-change denier — see here, here, here. Watts suggests that Sullivan's firing was orchestrated by Mark Kington to prevent Michael Mann from becoming the "Joe D and Helen J Kington Professor in Environmental Change".
Some more UVa BOV humor:
.
---