« previous post | next post »
Seen by a friend of Jeff DeMarco in Sydney, Australia's Chinatown: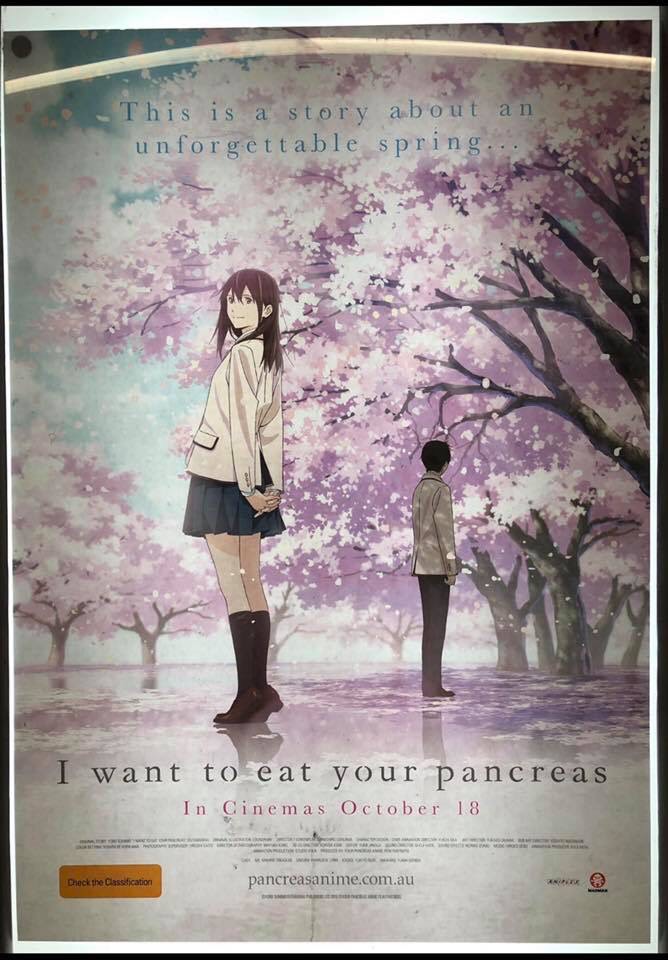 Most people who encounter this poster assume that it is just the result of bad machine translation.  But that's the real name of a real novel and a film based on the novel, and it is the correct translation of the Japanese title:
Kimi no Suizō o Tabetai 君の膵臓をたべたい ("I Want to Eat Your Pancreas")
web novel (2014)
novel (2015)
manga (2016-17)
live-action film (2017) ("Let Me Eat Your Pancreas")
anime film (2018)
Nathan Hopson remarks:
I'm unfamiliar with this particular cinematic gem, but the interwebs say:
Plot Summary: An unnamed protagonist happens to find a diary in a hospital one day. The diary belongs to his classmate, a girl named Sakura Yamauchi, who is revealed to be suffering from a terminal illness in her pancreas, and who only has a few months left to live. Sakura explains that the protagonist is the only person apart from her family that knows about her condition. The protagonist promises to keep Sakura's secret. Despite their completely opposite personalities, the protagonist decides to be together with Sakura during her last few months.
Cecilia Segawa Seigle observes:
It is indeed a very weird title and personally I don't want to see the movie they are making from the book with that title – which was evidently a sensational moving story of a high school boy who picked up a sick girl's diary she had accidentally dropped and fell in love with her.  She is dying from a pancreatic illness — and eventually dies.  Evidently Japanese people (young and old) loved the story — it was a best seller and received some literary prize.  I have no idea why the writer Yoru Sumino (a male) gave his novel such a weird title — maybe to draw attention to the book — and he succeeded.
Although the title sounds terribly gruesome in English, I'm wondering if there's something about its expression in Japanese that makes it less so.
---