« previous post | next post »
Following up on Kai von Fintel's post "Nurses say yes and no" — the (mis-)interpretation of generic plurals has been a frequent topic here. "Generic comparisons", 11/7/2011, surveys some of this material, starting from a presentation by Sarah-Jane Leslie of her work in "Do all ducks lay eggs? The generic overgeneralization effect", Journal of Memory and Language 2011. And going back a bit further, in "Mandatory treatment for generic plurals?", 9/13/2009, I proposed "a voluntary ban on the use of generic plurals to express statistical differences, especially in talking to the general public about scientific results in areas with public policy implications".
Those posts link to a small sample of my complaints over the years about the use of generic plurals to misrepresent small differences in group distributions as essential properties of group members. Here's one of my favorites:
In a 2007 NYT article, David Leonhart asserted that "In the early 1970s, women reported being slightly happier than men. Today, the two have switched places." Here's the underlying data: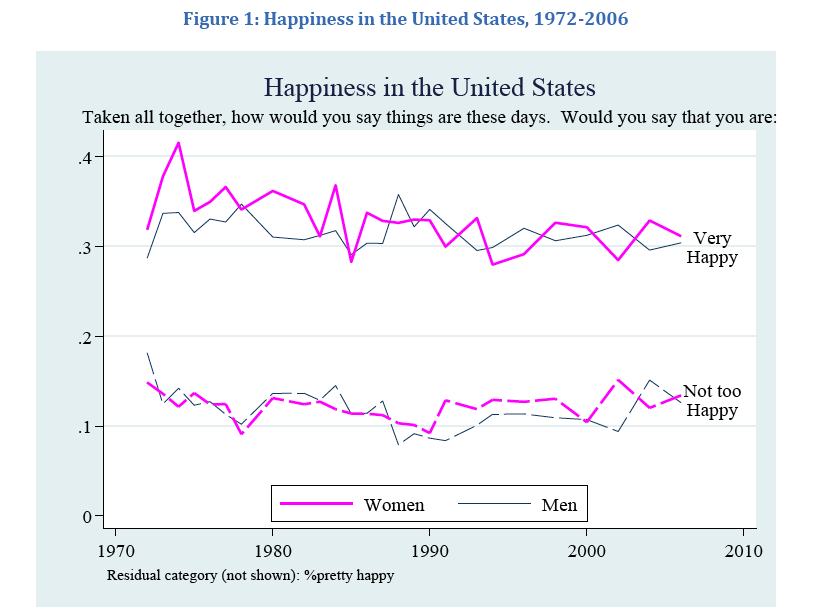 To see how Leonhart (and his social-science source) arrived at this characterization, see "The 'happiness gap' and the rhetoric of statistics", 9/26/2007.
You might also enjoy "Physiological politics", 2/15/2010, and "Icktheology", 2/18/2010.
---