« previous post | next post »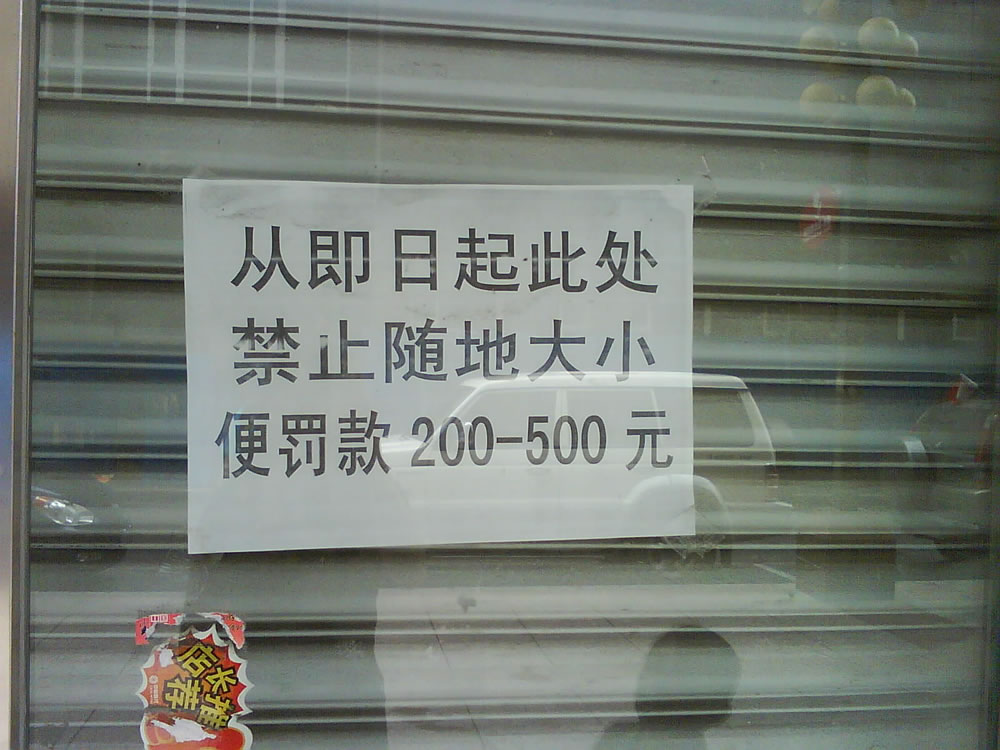 Although unintentionally humorous unilingual signs and labels are not as numerous as those that are bilingual, one does come upon them from time to time. Randy Alexander sent me this notice that he saw on a shop front window in Changchun, Jilin. It may be translated: "Starting from today, it is forbidden to urinate or defecate anywhere you please in this place. Fine 200-500 RMB." I get the "anywhere you please" from SUI2DI4 随地 ("anywhere; everywhere; any old place; wherever you please"), which is widely used in such phrases as SUI2DI4 TU3TAN2 随地吐痰 ("spit any old place"). The latter, by the way, is one form of Pekingese behavior that the authorities are trying to curb before the fast-approaching Olympics.
On this official Olympics website, it is stated that some Chinese netizens have tried to justify the habit of spitting by quoting 5,000-year old proverbs. I'm certain that their case was not very convincing, particularly since there are no 5,000-year old Chinese proverbs, and I seriously doubt that the netizens were quoting early Sumerian proverbs in favor of spitting (are there any?).
I should point out that, apart from government attempts to improve the manners of Beijingers, linguistic etiquette is undergoing radical changes as well, as demonstrated in a recent paper by Mary Erbaugh. (See "Saying 'Hello' to 'Ni Hao'", WSJ 6/20/2008.)
In any event, this Changchun shop window notice against unrestrained urinating and defecating reminds me of the "Forbidden to die" sign that we discussed back in early June. There the prohibited location for dying was JIU4DI4 就地 ("right here; on this very spot").
As Randy comments on the Changchun storefront sign, "It's funny how it implies that it was perfectly OK before today to defecate [and urinate] there."
For DA4XIAO3BIAN4 大小便 ("greater and lesser convenience," i.e., "defecate and urinate"), we have to go back a bit earlier to "Linguistic Advice in the Lavatory: Speaking Mandarin Is a Great Convenience for Everyone".
If you're interested in the small sign at the bottom left of the Changchun shop window, it means "Recommended by the Shop Director." I wonder if it's the director who's going to enforce the ban on urinating and defecating in front of his shop, or if he can call on the police to catch those who commit this infraction?
---