« previous post | next post »
Cheng Fangyi sent in the following priceless photograph from a Chinese menu: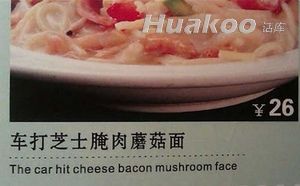 Although overall the translation counts as a colossal fail, it actually only murders the first and last of the five words that constitute the name of dish in question:
chēdǎ 车打 ("cheddar"; the translator has made the mistake of rendering the surface signification of the constituent syllables of the transcription of the English word)
zhīshì 芝士 ("cheese"; if they had mistreated this word the way they did the first word [by rendering the syllables individually instead of as phonetic representations corresponding to parts of the English word], the translator might easily have misconstrued this as "sesame scholar"))
yānròu 腌肉 ("salted meat; bacon")
mógu 蘑菇 ("mushroom")
miàn 面 ("pasta; spaghetti")
The translation of the last word as "face" instead of "pasta" or "spaghetti" is a good example of the type of mischief played by mishandling of simplified characters. The problem arises from the fact that the simplified character miàn 面 has collapsed two traditional characters into one:
miàn 面 ("face; surface")
and
miàn 麵 ("flour; pasta; spaghetti; noodles")
The full form of the Mandarin word for "noodles" is miàntiáo 麵條.
Obviously, there is no Sinitic word for "cheddar", but there is one, actually at least three, for "cheese", namely, nǎilào 奶酪, rǔlào 乳酪, and gānlào 干酪. Nonetheless, contemporary Chinese are very fond of using one of the many possible transcriptions of the English word rather than one of the indigenous Chinese terms.
I'm still in Cardiff, Wales (see "From the British royal big breast secret bookcase"). All this talk of cheddar cheese prompts me to hop across the Bristol Channel and go to the eponymous village of my favorite pressed curd.
While I'm in that Somerset village of southwest England, perhaps I should check out the digs of Cheddar Man, Britain's oldest intact human skeleton, who clocks in at over 9,000 B.P.
---