« previous post | next post »
Bob Hale sent in the photograph below with the following note:
I am currently living and working in Baiyin in Gansu province. I am trying to learn some Chinese but proving to be rather a poor student. My spoken Chinese is poor and my written Chinese non-existent so I am having trouble explaining the English on this sign. I follow your Language Log entries with great interest and when I see a sign I can usually take a guess at what might have happened but this one has me baffled. Any comments would be greatly appreciated.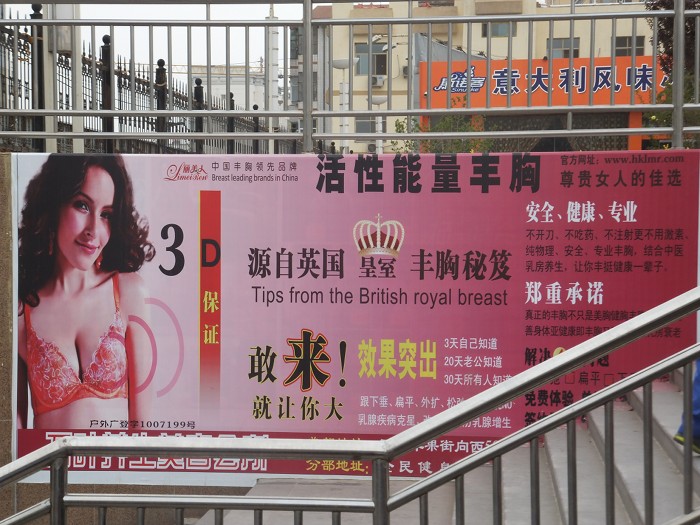 I'm in Wales at a conference on the medieval Chinese pilgrim, Xuanzang (inspiration for the monk in the famous Chinese novel, Journey to the West), so I don't have time to do full justice to this spectacular sign, but I will get things started, and invite others to fill in the gaps.
Lìměirén
丽美人
is the brand name, formed by reversing the syllables of the usual word for "beautiful", měilì 美丽, plus rén 人 "person". (Lìměi 丽美 usually signifies "Korean-American," since lí 丽 is short for Gāolí 高丽 ["Korea"] and měi 美 is short for Měiguó 美国 ["America"]; we may parenthetically note that surgical implants are much in favor in The Land of the Morning Calm and that Google Translate renders Lìměirén 丽美人 as "Korea Beauty".)
Zhōngguó fēngxiōng lǐngxiān pǐnpái
中国丰胸领先品牌
"leading Chinese brand for big breasts"
huóxìng néngliàng fēngxiōng
活性能量丰胸
"large / bounteous breasts with lifelike function"
yuánzì Yīngguó huángshì fēngxiōng mìjí
源自英国皇室丰胸秘笈
The Chinglish phrase featured on the sign, "Tips from the British royal breast", is a slight rewording from Google Translate's version:  "From the British royal breast Tips".  More literally:  "having its source in the British royal big breast secret bookcase"; mìjí 秘笈, which is here rendered as "tips", is derived from an old term referring to a collection of Taoist or other books replete with arcane, esoteric knowledge.
ānquán, jiànkāng, zhuānyè
安全,健康,专业
"safe, healthy, professional"
zhèngzhòng chéngnuò
郑重承诺
"we solemnly pledge"
xiàoguǒ túchū
效果突出
"spectacular results"
gǎnlái
敢来
"dare to come"
That is, "[we] dare / challenge [you] to come [in and take our] offer".
I'm not sure exactly what 3D means; extra large cup size, I guess, but with those sonar-like semi-circles emanating from the model's left boob, it also makes me think of the stereoscopic effect such mounds would present to the beholder.
Anyway, the 3D is bǎozhèng 保证 ("guaranteed"), so you needn't worry.  If you pay your money, you'll be sure to gain the desired effect.
Incidentally, the large, orangish sign on the building in the background proclaims: Yìdàlì fēngwèi 意大利风味 ("Italian flavor"); I wonder what they are selling.
Before closing, may I make a request?  I'm in Cardiff, so I see a lot of bilingual Welsh-English signs, but I'm not hearing much Welsh being spoken on the streets.  I'd appreciate suggestions for where to go in Wales to find those towns where Welsh is spoken in the pubs.
---