« previous post | next post »
In the Ukrainian Vekhovna Rada (parliament) Thursday evening, there was a full and frank exchange of views on language policy:
Andrew Roth and J. David Goodman, "Push Comes to Shove, and Punch, in Ukraine Parliament", NYT 5/25/2012:
What began as a legislative debate over Ukraine's official language policy escalated into a fist-swinging, clothes-ripping brawl between screaming, sweaty lawmakers that reverberated around the Internet on Friday, embellishing the country's standing in the pantheon of parliamentary punchfests that are captured on camera. […]
The 450-deputy Verkhovna Rada, as Parliament is called in Ukraine, was debating a measure that would elevate the status of Russian to a second language, equal to Ukrainian, in about half the regions of the country, including Kiev. The proposal's passionate advocates and foes reflect the deep political divisions in Ukraine, a former Soviet republic where some regions harbor deep-seated resentment of Russians.
"You're a corpse, you have two days left to live, we will crucify you on a birch tree," the author of the legislation, Vadim Kolesnichenko, said his lawmaker adversaries told him.
"Row over status of Russian language threatens to split Ukraine", The Guardian (Reuters) 5/25/2012:
Ukraine's ruling party has triggered violent protests with a move to upgrade the official role of the Russian language, a sensitive issue in the former Soviet republic and one that opponents say will effectively split the country.
A draft law by President Viktor Yanukovich's Regions party rekindled an emotional debate in Ukraine. Russian is the mother tongue of most people in the east and south of the country, while Ukrainian – the state language – predominates in parts of the centre and in the west.
This is everyone's favorite line from the debate: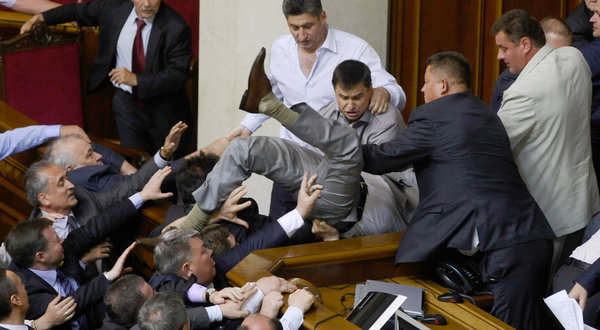 ---