« previous post | next post »
Although quaint, the English on the following sign cannot be classified as Chinglish: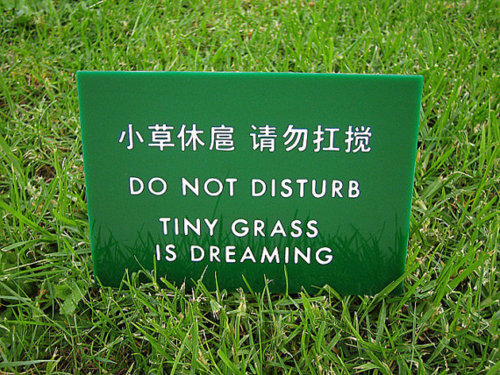 DO NOT DISTURB
TINY GRASS IS DREAMING
The real problems of this sign are not with the English, but with the Chinese, which reads:
Xiǎocǎo xiūhù, qǐng wù kángjiǎo
小草休扈,请勿扛搅.
I should note that the Chinese may not be the original after all. Instead, the person who made the sign may have started with the English (which is widespread in China [see below]) and attempted to back-translate into Chinese, with disastrous results.
The Chinese sign is untranslatable, because neither *xiūhù 休扈 nor *kángjiǎo 扛搅 mean anything, at least they are not intelligible in the context of the sign, and they certainly do not mean "dream", which is the most conspicuous element of the English:
*xiūhù 休扈 ("rest-retinue")
*kángjiǎo 扛搅 ("shoulder[vb.]-stir/disturb/annoy")
For the first error, I suspect that the sign-writer was somehow confused by the homophonous expression xiūhù 修护 ("under repair / maintenance"). It would have been more natural to say that the tiny grass is xiūxī 休息 ("resting") or, to match English "dream" in what I suspect might have been the impetus for the wording, zuòmèng 做梦 ("is dreaming"), mèngxiǎng 梦想 ("dream"), or some other poetic expression for "dream" containing mèng 梦.
The second error is probably orthographic, since it would be perfectly acceptable to write dǎjiǎo 打搅 ("disturb") in that position. When written hurriedly and sloppily, dǎ 打 and káng 扛 resemble each other. It would also be perfectly acceptable to write dǎrǎo 打扰 ("disturb"). The fact that dǎrǎo 打扰 ("disturb") and dǎjiǎo 打搅 ("disturb") are synonyms and sound similar may also have contributed to the confusion.
The idea that grass can dream is a widespread meme in China. I have seen dozens of variants on this theme almost everywhere I travel in China that grass can be made to grow. Here's another version:
Chinese:
xiǎocǎo xiūxī, qǐng wù dǎjiǎo
小草休息,请勿打搅
("the little grass is resting; please do not disturb")
English:
Do not disturb — tiny grass is dreaming
The Russian rendering is the poorest of all the translations, using a form of the verb vkhodyat входят ("enter") instead of bespokoit' беспокоить ("disturb"), and mentioning nothing at all about tiny grass that is dreaming.
The Japanese is by far the cutest and most imaginative of the four translations:
Hitoyasumichū, nokku suru no o goenryo kudasai
一休み中、ノックするのをご遠慮ください。
Taking a little rest (lit.: in the middle of a little break); please refrain from knocking.
The Korean is replete with grammatical niceties and honorifics, but I shall leave it to readers who are specialists in the language to explain them if they wish to do so:
Puldeuri swigo isseuni banghaehaji masipsiyo(yo ->o)
풀들이 쉬고 있으니 방해하지 마십시요
("The grasses are resting, so please don't disturb them.")
(The last graph 요 [yo] is apparently a misspelling of 오[o]; we must bear in mind that there is often a considerable difference between Korean transliteration based on Hangeul orthography and transcription based on actual pronunciation, plus we now have to contend with the new Revised Romanization and the customary McCune-Reischauer system; it is my experience that there is still a long way to go before a consensus on the romanization of Korean is achieved; indeed, I am afraid that exception will be taken to some of the readings I have given here — I hope that they are not too far off the mark)
And now it's time for me to take a rest; please don't disturb my dreams.
[A tip of the hat to Mark Liberman and thanks to Nathan Hopson, Hiroko Sherry, Daniel Sou, Cecilia Segawa Seigle, Minkyung Ji, Haewon Cho, Haewon Kim, and Sungshin Kim]
---