« previous post | next post »
Today's xkcd: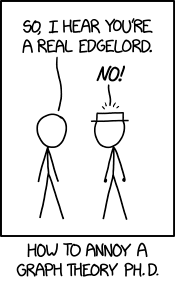 Mouseover title: "If you study graphs in which edges can link more than two nodes, you're more properly called a hyperedgelord."
The Wiktionary entry's gloss: "(informal, derogatory, Internet slang) Someone who attempts to seem edgy by doing or saying risque or offensive things."
Wiktionary cites as "Related terms" douchelord and shitlord.
None of these have made it into the OED yet, to join landlord, houselord, ship-lord, etc.
I'm guessing that the Internet slang developments were inspired by the Dr. Who "Timelord" pattern.
---