« previous post | next post »
A funny ad:
There are several serious questions behind the joke. One has to do with L1 effects: Why do speakers of some languages (Thai, Russian, Hungarian) characteristically substitute [t] for [θ], while speakers of other languages (Japanese, German, Egyptian Arabic) substitute [s], given that all of these languages have both [s] and [t]? This question is considered at length in Linda Lombardi, "Second language data and constraints on Manner: explaining substitutions for the English interdentals", Second Language Research, 2003.
Another question is whether the merger in production is also, as the ad implies, a merger in perception. The answer in this case seems to be "sort of" — see e.g. Linda Polka et al., "A cross-language comparison of /d/-/ð/ perception: Evidence for a new developmental pattern", J. Acoust. Soc. Am. 2001, from which this graph comes: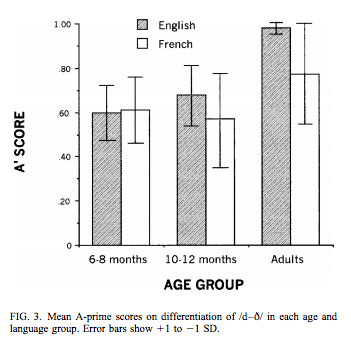 Getting back to the jokes, Linda Lombardi quotes this one — too good to check —  from John Edwards' 1994 book Multilingualism:
One of my favourite errors occurred in an American war film, subtitled in French. One fo the soldiers peers into the distance, and another says "Tanks?" The subtitle reads 'Merci'.
---