« previous post | next post »
Following up on "Clarification by misnegation" and "More double negative jokes", here are some tweets I missed:
Might actually give you up, will probably let you down, may in fact run around and hurt you..

— Flic Everett (@fliceverett) July 17, 2018
WHITE HOUSE CORRECTION FORTHCOMING:
What the president meant to say: "There's never been a president as tough on Russia as I HAVEN'T been."
(It's kind of a double negative.) https://t.co/rEbnmdPZHp

— Bill Kristol (@BillKristol) July 18, 2018
TRUMP DOUBLE NEGATIVE UPDATE pic.twitter.com/Vc2w9PxUHa

— TheWhitechapel Whelk #FBPE (@The_Whelk) July 18, 2018
I probably would've been in a lot less trouble as a teenager if I had thought of the double negative excuse.

— Ryan Nobles (@ryanobles) July 17, 2018
TAKE HIM TO THE WOULD SHED

— Ariel Edwards-Levy (@aedwardslevy) July 17, 2018
C'mon. The guy corrected himself. It's WOULDER under the bridge now.

— Patrick Murray (@PollsterPatrick) July 17, 2018
A lot of people came up independently with variants on "I am not not a crook".
Twitter registers some complaints from Trump supporters about Trump Derangement Syndrome, but I haven't seen any attempts to turn the double negative humor in the opposite direction.
In traditional media:
Tom Toles, "Trump doubles down on never not re-reversing no non-unchanged double non-negative un-denials", Washington Post 7/18/2018: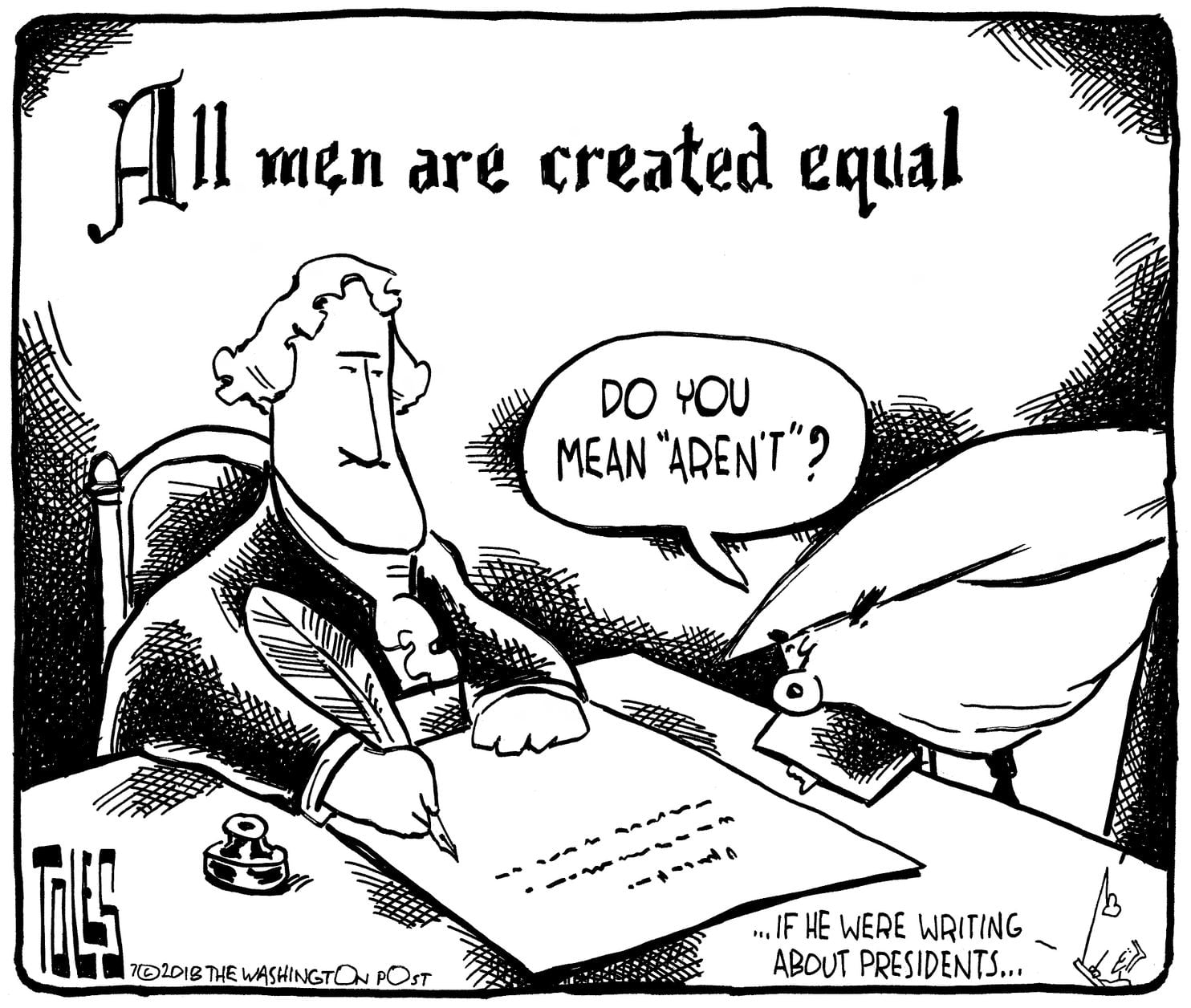 The Late Show, "Schoolhouse Rock! Presents: Double Negative Junction", 7/18/2018:
Alexandra Petri, "This was 'not' what Trump meant to say", Washington Post 7/17/2018:
It is easy to see how this might be confusing. President Trump understands how you might have gotten confused. […]
Anyway, he now is issuing an unequivocal statement that "I accept our intelligence community's conclusion that Russia's meddling in the 2016 election took place. Could be other people also. A lot of people out there."
Is that unequivocal or not unequivocal? Well, it is definitely one of the two, and if we decide it was not unequivocal, we can tack that "not" on in the next 24 hours without incident. […]
Trump meant to really send a stern message to Putin. He meant to not not mention human rights, and certainly he was going to stand his ground when confronting the Russian president on the subject of election interference. Instead he did not that. Easy mistake, is the point. You can think, "Wait, am I supposed to do this, or is this the thing I am supposed to not do?" and sometimes you forget and guess wrong, and that is Trump foreign policy in a notshell. […]
He does not think the American people are idiots who will just take this "not" statement at face value. He does not think so little of you. This is not insulting to you. I think I am using the right number of "not," but these days, who knows?
---
For those interested in a serious analysis of the grammatical and psychological issues involved, see Lane Greene (writing as Prospero), "Double-plus un-obvious: A grammatical analysis of Donald Trump's double negatives", 7/18/2018.
---