« previous post | next post »
Murray Clayton, a statistician from the University of Wisconsin, sent in this photograph of a sign on the Tamsui Fisherman's Wharf in Taiwan: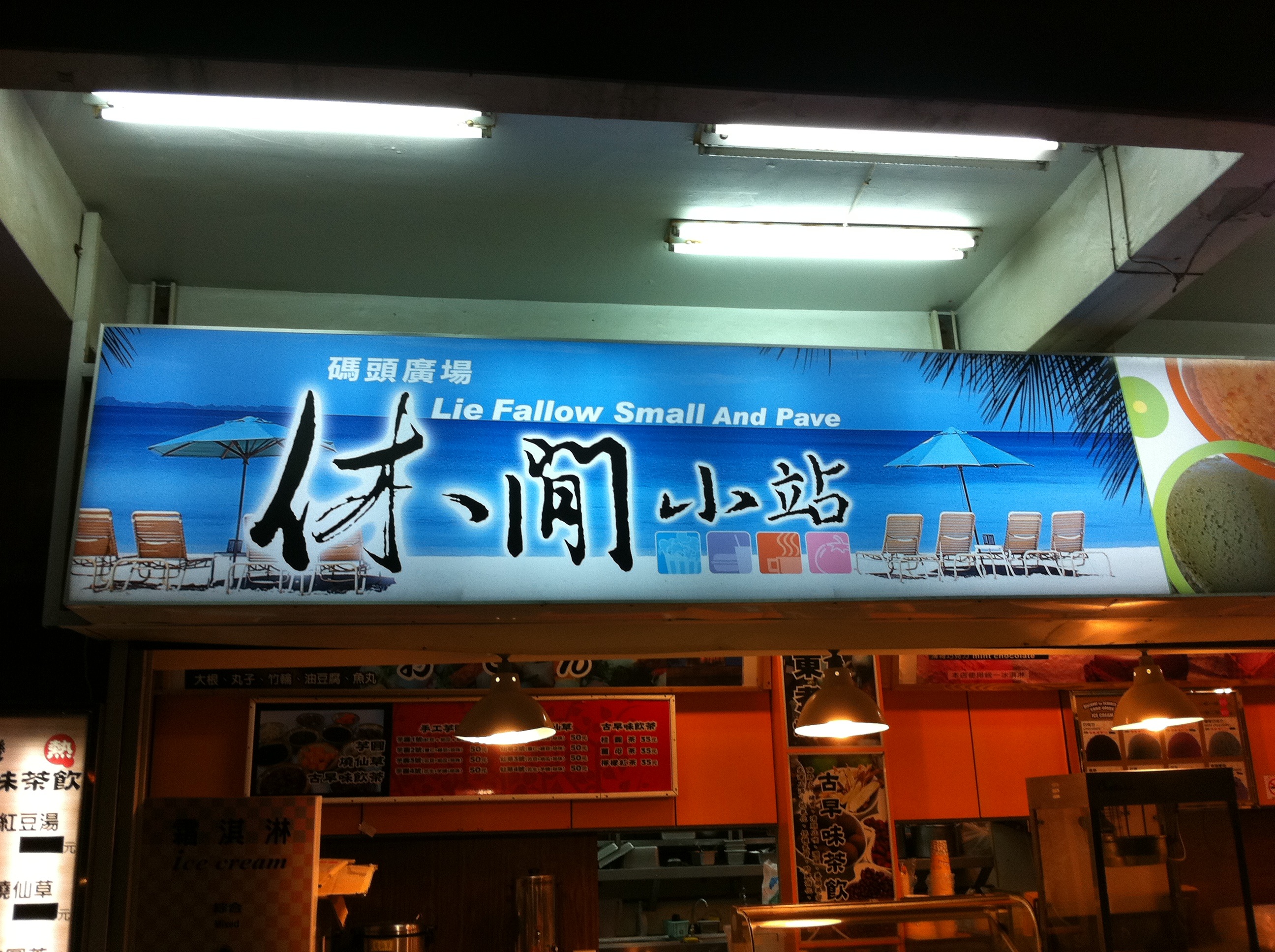 (Click to embiggen.)
What the Chinese sign actually says is xiūjiān xiǎo zhàn 休间小站 / 休間小站, which may be rendered as "Little Leisure Station / Stop". So how did the translator arrive at the whimsical rendering "Lie Fallow Small And Pave"?
One can explain the first three English words as having been derived from the corresponding Chinese characters:
xiū 休 ("rest")
xián ("without anything to do; idle; fallow")
xiǎo 小 ("small; little")
But zhàn 站 really throws us for a loop, since it normally means "stand; stop; halt; station". It is a mystery how the translator got from there to "pave".
The usual Chinese equivalent of English "pave" is pù 铺, so it is hard to imagine how there could be phonetic or graphic confusion between that and zhàn 站 ("stand; stop; halt; station").
There is, however, another explanation for how one might get from zhàn 站 to "pave".
The word for paving brick in Mandarin is zhuān 砖. It is conceivable that, if any stage of the translation process were done orally, zhuān 砖 ("paving brick") might have been mistakenly substituted for zhàn 站 ("station; stop"). Even if the communication were being carried out orally in Taiwanese rather than in Mandarin, the same mix-up could have occurred: tsuan / tsng / chng 磚 ("paving brick") being substituted for tsām / chām 站 ("station; stop").
[With thanks to Melvin Lee and Sophie Wei]
---