« previous post | next post »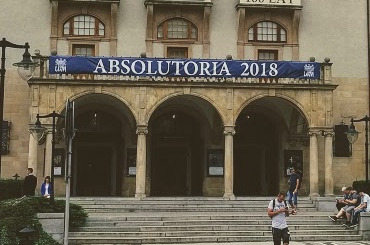 When I saw a large sign reading "ABSOLUTORIA 2018" on a vaguely ecclesiastical-looking building in Poznań last week, my first ignorant thought was that maybe there was a sort of special on indulgences. But that was wrong, and so was my second thought that it might be a vodka festival.
A quick inspection of the building's smaller signage identified it as part of Adam Mickiewicz University, and suggested that "absolutoria" in this context means graduation ceremonies. A Polish-English dictionary confirmed this inference, and the site absolutoria.poznan.pl offers pictures.
Of course absolutorium is a Latin word rather than a Slavic one — or rather a Latin-ish word, since it's unknown to Lewis & Short and to the Oxford Latin Dictionary.
But the formation makes sense — specifically, the sense of absolvo that Lewis & Short gloss as
In technical lang., to bring a work to a close, to complete, finish (without denoting intrinsic excellence, like perficere; the fig. is prob. derived from detaching a finished web from the loom) […] Hence, absŏlūtus , a, um, P. a., brought to a conclusion, finished, ended, complete .
Perhaps readers can tell us if this usage is specific to UAM, or to Poland, or to some wider cultural or linguistic circle.
---