« previous post | next post »
The "Frequency Illusion", introduced here in 2005, has made the big time in today's SMBC: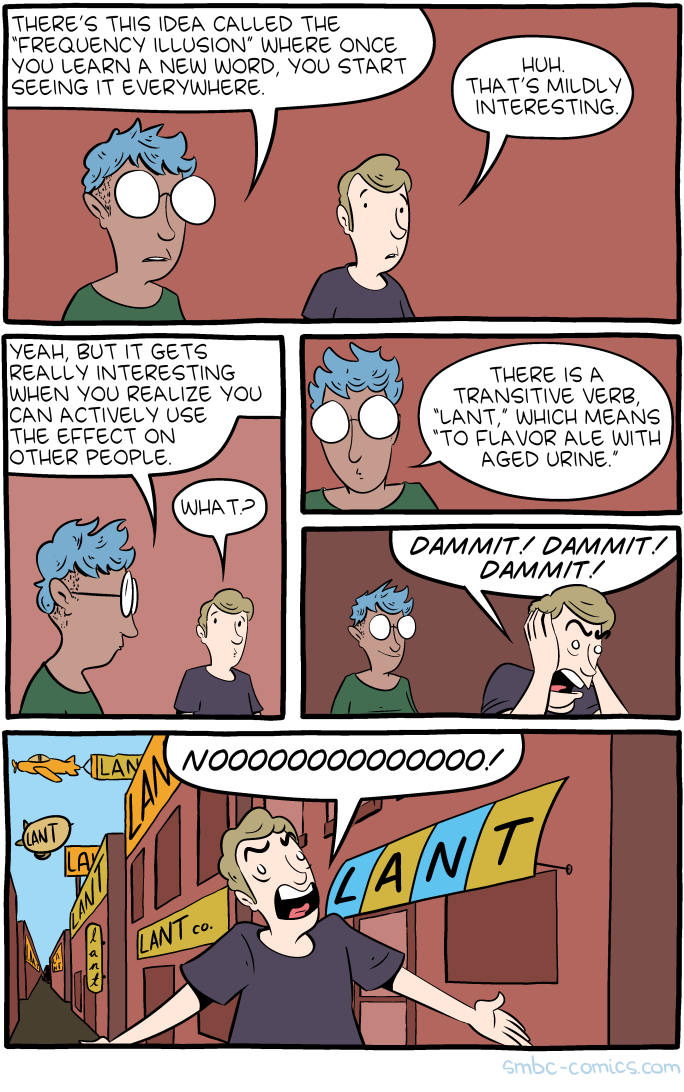 The aftercomic: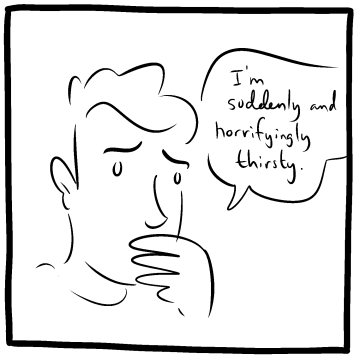 The mouseover title: ""I found out about 'lant' on the lovely podcast, Lexicon Valley, by the always-brilliant John McWhorter."
Arnold Zwicky's original quote (from "Just between Dr. Language and I", 8/7/2005):
Another selective attention effect, which tends to accompany the Recency Illusion, is the Frequency Illusion: once you've noticed a phenomenon, you think it happens a whole lot, even "all the time".  Your estimates of frequency are likely to be skewed by your noticing nearly every occurrence that comes past you.  People who are reflective about language — professional linguists, people who set themselves up as authorities on language, and ordinary people who are simply interested in language — are especially prone to the Frequency Illusion.
Update — By popular demand, the OED entries for lant:
lant, n.1 [not updated since 1901]:
Now rare.
Urine, esp. state uring used for various industrial purposes, chamber-lye.
1611   R. Cotgrave Dict. French & Eng. Tongues   Vrine, vrine, lant, stale, chamber-lye.
1640   H. Glapthorne Wit in Constable ii. sig. Dii   Your nose by its complexion does betray Your frequent drinking country Ale with lant in't.
a1661   W. Brereton Trav. (1844) 106   The linen do so strongly taste and smell of lant and other noisome savours, as that [etc.].
lant, v. [also not updated since 1901]
trans. To mingle with 'lant'.
1630   Tincker of Turvey Ded. Ep. sig. A 3   I haue drunke double-lanted Ale, and single-lanted, but neuer gulp'd downe such Hypocrenean Liquor in all my life.
1662   M. W. Marriage Broaker v. i. 73   My Hostess takings will be very small, Although her lanted ale be nere so strong.
1674   J. Wright Mock-Thyestes in tr. Seneca Thyestes 134   Dead drunk with double lanted Ale.
1691   J. Ray N. Country Words in Coll. Eng. Words (ed. 2) 42   To Leint Ale, to put Urine into it to make it strong.
---