« previous post | next post »
I've been noticing a lot of wellness around recently. The word, that is — like Manlu Liu, "Penn announces new position of Chief Wellness Officer to centralize and improve resources", The Daily Pennsylvanian 4/24/2018:
Penn will institute the position of a chief wellness officer, Penn President Amy Gutmann announced in an email to all Penn undergraduate students on April 24.
According to the email, the chief wellness officer will oversee a new department at Penn called "Student Wellness Services" that will include Counseling and Psychological Services, the Student Health Service, and the Office of Alcohol and Other Drug Program Initiatives.
And not just at my university.  A search for wellness at Google News returns 20 articles from within the past 24 hours, ranging from "High-rise builder hopes wellness sells at downtown Dallas luxury condo" to "How Is Wellness Guru Prince Harry Preparing for the Royal Wedding?", "From vegan gummies to cannabis teas, marijuana edibles are becoming the newest product in the 'wellness' market" and "Cardiac Care Group A Fox 4 Wellness Expert".
Has wellness always been so thick on the ground? The OED has citations going back to 1654,  but the Google Ngram tool suggests a usage trend starting in 1970 or so:

(The multiplication by 10000 turns the uninterpretable percentages on the vertical axis into frequencies per million.)
There's a similar pattern in the MEDLINE dataset of biomedical abstracts, revealed by my homegrown counting script: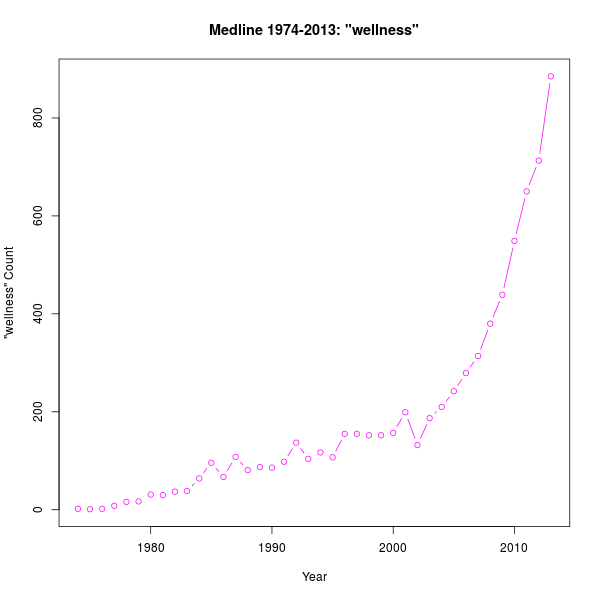 And we can see a similar trend via date-limited search in the New York Times (number of stories containing the word "wellness" per decade):
| | |
| --- | --- |
| 1970s | 7 |
| 1980s | 106 |
| 1990s | 277 |
| 2000s | 950 |
| 2010s | 2626 |
[ 2010s value is extrapolated from 2189 1/1/2010 to 5/1/2018]
Why?
My impression is that "health" has become too much about negatively-associated things like doctors, hospitals, insurance companies, and giant pharmaceutical firms — and it was never rigorously positive enough anyhow, since you can have good health or bad health. There's no such thing as bad wellness.
Update — LION turns up an example of Middle English wellness, listed as "Anon., 1100-1400":
1  Sein Benet was ibore in þe lond of Nuirsie
2  To Rome he was wel  ong ysend [ ] to lerni of clergie
3  His norise he hadde þer wiþ him þat him wel nesse weste
4  Fram hure he stal wel stilleliche a day þat he[o] it nuste
5  And bileuede is scole & eke hure & þat him were isibbe
6  And wende into wildernesse in penance forto libbe
So the term has been around as long as English has, just waiting for its moment.
Update #1a — Apparently this example is invalid — David Denison, who should know, suggests that "nesse" here is actually neshe "Softly; gently; compassionately", and "well" is a degree adverb rather than the head of a nominalization. But a search in EEBO turns up a passage in a 1573 document A briefe exposition of such chapters of the olde testament as vsually are redde in the church at common praier on the Sondayes set forth for the better helpe and instruction of the vnlearned. By Thomas Cooper Bishop of Lincolne:
49 Beholde, the sinnes of thy sister Sodoma were these: Pride, fulnesse of meate, and aboundance of  welnesse, these things had she and her daughters: besides that they streng|thed not the hand of the poore and néedie.
So not Middle English, but certainly Early Modern English.
Update #2 — and of course Ben Zimmer was there first: "Wellness", NYT 4/16/2010:
"Wellness," intoned Dan Rather in November 1979, introducing a "60 Minutes" segment on a new health movement known by that name. "There's a word you don't hear every day."
More than three decades later, wellness is, in fact, a word that Americans might hear every day, or close to it. You can sign up for your company's employee-wellness program, relax in a wellness spa treatment or even plan some "wellness tourism" for your next vacation. Your cat or dog can get in on the action, too, since the W-word has been pressed into service as a brand of all-natural pet food.
Wellness is here to stay, despite misgivings over the years that it isn't such a well-formed word. How did it take over, and whatever happened to good old health?
Thanks to Ben's discussion, we can trace the positive influence of the word to Halbert Dunn's 1959 article "High-Level Wellness for Man and Society", and his 1961 book High-Level Wellness.
---