« previous post | next post »
A Cantonese grad student from Guangzhou sent me this headline that means something very different in Cantonese and in Mandarin: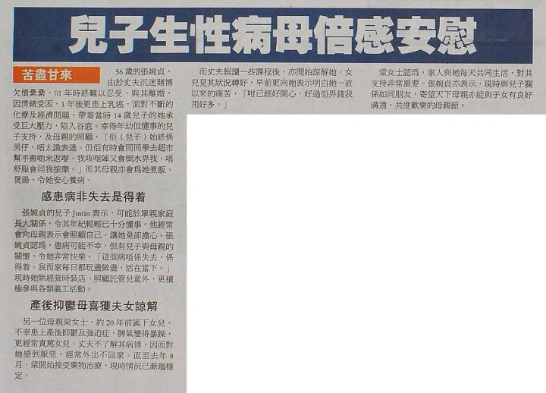 Mandarin
Érzi shēng xìngbìng, mǔ bèi gǎn ānwèi 儿子生性病,母倍感安慰
("When her son contracted a venereal disease, the mother felt redoubled happiness").
Cantonese
Ji4zi2 saang1sing3, beng6 mou5 pui5 gam2 on1wai3 儿子生性,病母倍感安慰
("[Given that] her son is obedient, the sick mother felt redoubled happiness")
One may say that the first reading is absurd, but that is the way it would be parsed in Mandarin, since Mandarin speakers would not know that saang1sing3 生性 is a lexical item in Cantonese meaning  " natural disposition; well-behaved; sensible; thoughtful; obedient".
Here are some examples of common phrases that can have quite different meanings in Mandarin and in Cantonese:
1. 返工 Mandarin fǎngōng: rework, redoing; Cantonese faan1 gung1: return to work, redo a job
2. 心机 Mandarin xīnjī: scheming, mentality; Cantonese sam1 gei1: serious mind
3. 张飞 Mandarin Zhāng Fēi: a name; Cantonese zoeng1 fei1: one fare / ticket
4. 出面 Mandarin chūmiàn: to perform, act on behalf of; Cantonese ceot1 min6: outside
5. 口齿 Mandarin kǒuchǐ: mouth and teeth, the way to articulate; Cantonese hau2 ci2: credit, promise
6. 人工 Mandarin réngōng: artificiality, manpower, manual labor; Cantonese jan4 gung1: salary, pay
7. 偷鸡 Mandarin tōu jī: steal chicken; Cantonese tau1 gai: be indolent in one's duty
8. 挂住 Mandarin guà zhù: hang, put up; Cantonese gwaa3 zyu6: miss, care for
There are countless other expressions that have radically different meanings in Cantonese and in Mandarin.  Such discrepancies lead to serious misunderstandings and mistranslations.  Here is a celebrated case where Cantonese do6toi1 墮胎 ("abortion") was used to translate Mandarin rénliú 人流, which can also mean "abortion", but in this sentence was intended to convey another meaning — "stream of people" — which doesn't exist in Cantonese:  "Shāngchǎng xīnchūn rénliú shēngyì jiào qùnián tóngqí lù dé zēng yī chéng 商场新春人流生意较去年同期录得增一成" ("The business of the flow of people in the malls during the new spring is 10% greater than during the same period last year").  Instead, the translation of the crucial phrase in a Hong Kong newspaper came out as "duòtāi shēngyì 墮胎生意" (abortion business").
Bob Bauer points out that students in Guangdong province, including its main city of Guangzhou, are finding it increasingly difficult to handle written Cantonese:
The inability of students to read the Chinese characters with their Cantonese pronunciations reflects the decline of the Cantonese language in Guangzhou. Decades ago young children there switched over to learning Putonghua and stopped learning Cantonese in the usual way.
Thirty-odd years ago when I was living in Taiwan I gave a newspaper to a Taiwanese-speaking friend and asked him to read an article out loud by pronouncing the Chinese characters with their Taiwanese pronunciations. He made the attempt but couldn't do it.  [VHM:  That was thirty years ago.  The situation regarding Taiwanese, especially in the northern part of the island, is far more dire now.]
Over the past year or so people from Guangzhou have sent me emails in which they have asked me what they can do to "protect" the Cantonese language. Unfortunately, if the language has reached the stage where it needs protection, it's most likely too late to do anything for it.
That's what it's like in Guangzhou, inside the PRC.  Now that China has taken over Hong Kong, policies for the same sort of preferential treatment in favor of Mandarin are being instituted and enforced.  Unless some drastic changes take place within the next decade or so, the future of Cantonese, even in Hong Kong, looks increasingly bleak.
---