« previous post | next post »
Today's xkcd: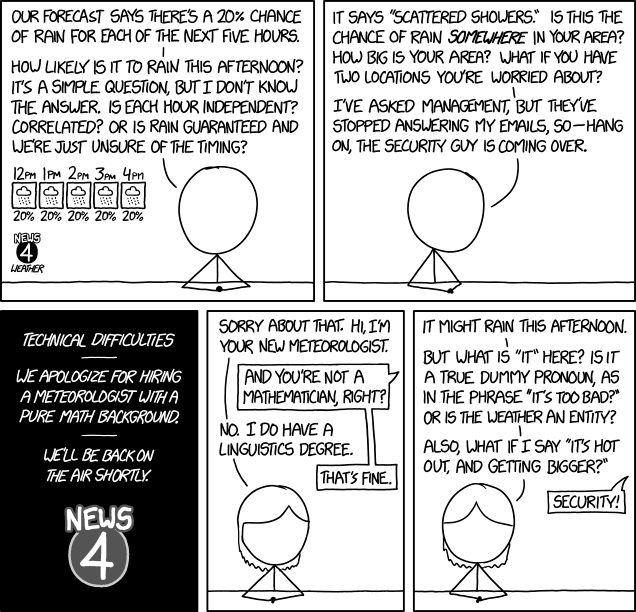 Mouseover title: "Hi, I'm your new meteorologist and a former software developer. Hey, when we say 12pm, does that mean the hour from 12pm to 1pm, or the hour centered on 12pm? Or is it a snapshot at 12:00 exactly? Because our 24-hour forecast has midnight at both ends, and I'm worried we have an off-by-one error."
I'll leave it to readers to compose the corresponding jokes for economists, physicists, anthropologists, literary theorists, stand-up comedians, and so on.
Update — Topher Cooper explains in the comments what the PoP really means:
The probability of precipitation (PoP) is the product of confidence that it will rain within the area being analyzed and the expected percentage of the area that the rain will fall on if it does rain. Its no wonder people are confused. This is a more sensible metric then it sounds, since it boils down to the probability that any particular person in the area who hears the forecast will be rained on. 
So call it PoEP = Probability of Experiencing Precipitation". And if each hour's PoP were statistically independent of the others, we could combine them by inverting them relative to 1 (thus turning PoP into PoNEP = "Probability of Not Experiencing Precipitation"), taking the product, and then inverting again. (Of course the hourly PoPs are not independent, but that sort of thing never stops a statistician…)
Excellent comments, overall – but I'm disappointed not to get any scripts for an economist-meteorologist, who might analyze humidity and temperature in terms of supply-demand curves, or weather-system movement in terms of the balance of trade. After all, our U.S. weather is largely the result of competition between Canadian and Mexican air masses, right? Does rational choice theory really apply here?
Or a script for a literary-theorist-turned meteorologist, who might undertake to deconstruct meteorological aquacentrism as revealed in the experience of precipitation, etymologically "falling forward", which we might better call decipitation to underline the post-hegemonic opposition between prescription and description.
---