« previous post | next post »
I happened to have the TV going in the background during the press conference where the new Greek bail-out was announced, and it struck me that at an event about Greek sovereign debt, held in Brussels,  Klaus Regling (German), Christine Lagarde (French),  Jean-Claude Juncker (Luxembourgeois) and Olli Rehn (Finnish) were all speaking English. Nor did I notice any native speakers of English among the reporters who asked questions (in English) afterwards. This is is now completely normal, of course.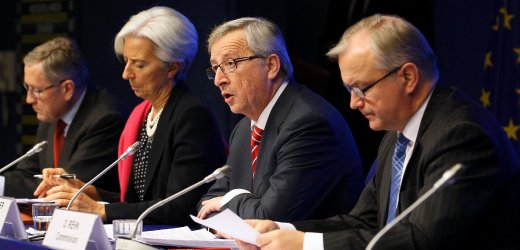 But sometimes completely normal things seem temporarily strange, and I had this experience while listening to Olli Rehn's remarks, when it occurred to me that international affairs have become a wonderful opportunity to study non-native pronunciation of English.

Mr. Rehn's English is excellent — he did his undergraduate study at Macalester College in St. Paul MN — but he has a fascinating way of adding an extra neutral vowel at the end of most phrases:
In the past /
two years and /
again /
this night /
I've learned that /
Marathon is /
indeed /
a Greek /
word /
but / in the end / we came to an agreement /
it's a very far reaching and / important / agreement /
and / the commission | welcomes / this / agreement / of / tonight /
which will (/) substantially reduce /
the debt burden of (/) Greece /
and / will help / to reform /
her economy and / administration |
(I've marked the cases of clear final neutral-vowel epenthesis with '/'. A slash in parentheses (/) indicates cases where there seems to be an elongation of the final consonant, without a clear epenthetic vowel; and a vertical stroke '|' indicates a pause without epenthesis.)
It's clear that this is strictly a pausal phenomenon, rather than a general phonotactic constraint on syllable-final or word-final sequences — thus his rendition of "I've learned that" includes the cross-word sequences /v#l/ and /rnd#ð/, which he executes without any epenthesis:
Similarly for the /t#b/ sequence in "debt burden":
From another report, we get this additional sample, which confirms that final nasals and vowels are sometimes left alone:
In order to enhance / the implementation of the program |
we also decided / to create / a segregated account /
uh through which / Greece will / pay an amount of (/)
the coming quarters / debt service /
which will | certainly give /
spine and / strength / to policy conditionally |
I haven't noticed any similar pausal epenthesis in the speech of other Finns that I've known. I don't know whether this is a characteristic of English as spoken by people from Mr. Rehn's home area (Southern Savonia), or an idiosyncratic characteristic, or what.
There seems to be some basis for this in the phonology of Finnish, at least at the word level. According to Kari Suomi, Juhani Toivanen & Riikka Ylitalo, "Finnish Sound Structure", 2008:
In fully native words, only the consonants /t/, /s/, /n/, /l/ and /r/ can occur word-finally, e.g. olut 'beer', vieras 'guest', nainen 'woman', manner 'continent', sävel 'tune'. Of these, however, /l/ and /r/ are very rare word–finally. If full, non-reduced word forms are considered, then Finnish has practically no word-final CC sequences (or longer ones). There are a couple of onomatopoetic interjections like poks, rits, plumps, and a couple of loanwords: morjens 'hello' (informal) and preesens 'the present tense'. But in many dialects many word-final vowels (and some other segments) are regularly deleted (in comparison to SSF), and this also happens in colloquial, informal versions of SSF, and in such varieties word-final CC sequences are very frequent, e.g. (the vowels in parentheses are deleted in these varieties): miks(i) 'why', yks(i) 'one', kenelt(ä) 'from whom', meneks 'are you going' (from the full form menetkö sinä).
Borrowed words that end in one or more consonants in the lending language are usually adapted to Finnish phonotactics by adding a vowel to the end. This has happened in the past, and it is happening today. Examples of old loans are masto 'mast' < Sw. mast, syltty 'brawn' < Sw. sylt, santa 'sand' < Sw. sand. In the past, any vowel could be added to the end of the borrowed word (observing vowel harmony, however), but now the added vowel is invariably /i/, as in kurssi, presidentti and trendi (but there are at least two recent slang word exceptions to this generalisation, namely stara '(pop) star' and handu 'hand'). In this way, the originally word-final consonant (sequence) is made word-internal. Usually /i/ is also added to words that would otherwise end in /t/, /s/, /n/, /l/ or /r/ and which, as such, would be consistent with Finnish phonotactics, e.g. analyysi, mikrofoni, konsuli, printteri. But there are also some established loanwords to which /i/ has not been added, e.g. anis, tennis, karies, neon. Finally, there are words that do not have final /i/ in SSF, but do have it in some other variety, e.g. nailon(i), Eeden(i), röntgen(i).
I haven't been able to find a recording of yesterday's entire news conference, but there are plenty of other samples of Mr. Rehn's speech on the web, from which a more complete statistical picture of his pausal sound patterns in English could be developed. And it would also be interesting to try to model where, in syntactic and informational terms, he chooses to put the breaks, however they are marked phonetically.
The Wikipedia article says that he also speaks Swedish, French, and German, though I haven't found any recordings.
---