« previous post | next post »
The following sign appears on a vending machine that provides free condoms at a maternity hospital in Beijing: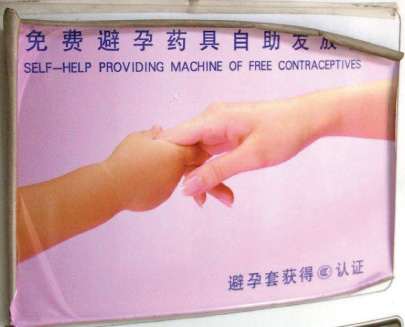 Here's what the sign actually says:
miǎnfèi bìyùnyàojù zìzhù fāfàng[jī]
免费避孕药具自助发放[机]
("self-service free contraceptive dispens[er]")
bìyùntào huòdé CCC rènzhèng
避孕套获得认证
("condoms have received CCC certification")
Two things puzzled me about this poster.
1. I initially didn't recognize the certification mark. It looked like the CE ("Conformité Européenne") symbol that appears on European condoms, but it was different. Since the CE symbol has been misused by Chinese manufacturers, a matter that was taken up by the European Parliament in 2008, I thought that perhaps it was intentionally made to resemble the CE symbol, yet distorted enough to appear as though it were an independent symbol. Upon further investigation, I discovered that China has come up with its own condom certification, namely, CCC ("China Compulsory Certification"). That looks suspiciously close enough to CE that it must have been made to resemble it on purpose.
2. As to why a mother's hand grasping a baby's finger was chosen to illustrate the front of a free condom dispenser, I have no clue. Perhaps the designer was simply so enamored of the centerpiece of Michelangelo's Sistine Chapel that he / she thought it would be clever to do something similar.
[A tip of the hat to Dan Devaney]
---