« previous post | next post »
Jillian Rayfield, "'Sovereign Citizen' Sues Prosecutors For Grammar-Based Conspiracy", TPM :
A so-called sovereign citizen in Washington, recently sentenced to three years for threatening to "arrest" a local mayor, is now suing federal prosecutors for conspiring against him using poor grammar, or as he calls it, "backwards-correct-syntaxing-modification fraud."
David Russell Myrland filed a (virtually incomprehensible) lawsuit in federal court in Washington in late January, accusing federal prosecutors and Department of Homeland Security officials of violating his civil rights through "babbling-collusion-threats" and "grammar-second-grade-writing-level-fraud."
Myrland's filing (or, as I should write, David-Russell:: Myrland's filing) is here. It begins: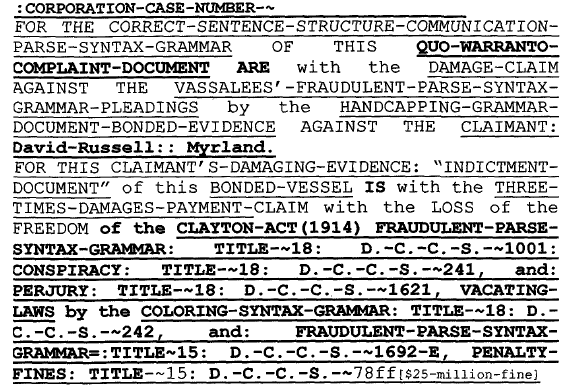 As Rayfield explains,
The lawsuit was filed with the help of David Wynn Miller, who, according to the Southern Poverty Law Center, is another "sovereign citizen" who calls himself the "king of Hawaii" and claims the government uses grammar to enslave people.
We've discussed Mr. Miller's theories here before: "All words have 900 definitions?", 1/29/2010; "Did Loughner read Miller?", 1/10/2011.
---