« previous post | next post »
Morris Halle passed away early this morning: born 7/23/1923, died 4/2/2018.
The abstract from "Morris Halle: An Appreciation", Annual Review of Linguistics 2015, describes his influence on the field: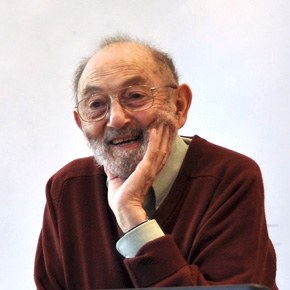 Morris Halle has been one of the most influential figures in modern linguistics. This is partly due to his scientific contributions in many areas: insights into the sound patterns of English and Russian, ideas about the nature of metered verse, ways of thinking about phonological features and rules, and models for argumentation about phonological description and phonological theory. But he has had an equally profound influence through his role as a teacher and mentor, and this personal influence has not been limited to students who follow closely in his intellectual and methodological footsteps. It has been just as strong—or stronger—among researchers who disagree with his specific ideas and even his general approach, or who work in entirely different subfields. This appreciation is a synthesis of reflections from colleagues and former students whom he has formed, informed, and inspired.
If you don't have an institutional or individual subscription, a .pdf version of that article is here.
I was one of his students, and I've been thinking about what he taught me.
Morris believed in the virtuous interaction of empirical coverage, descriptive insight, and theoretical elegance. He often said that the best discovery procedure is a theory, even a wrong one, because testing a theory's predictions leads you into areas of fact that you never would have explored otherwise. And for Morris, the best theories were right in unexpected ways, providing simple explanations for complex and apparently diverse patterns of data. He also insisted that successful new ideas should be justified by their role in providing broader and deeper empirical coverage of a significant piece of a particular language, not merely by reference  to isolated fragments of many descriptions known only through secondary or tertiary sources.
But his most important influence, on me and many others, was his model of intellectual conversation as dialectical reasoning. Here's Diane Archangeli in the Annual Review of Linguistics "Appreciation":
I first met Morris when I was getting my MA at UT Austin, and he came down for a conference that John McCarthy had organized. When I was giving my talk, Morris jumped up on stage with me and debated my analysis with me. It took me a few moments to get over the shock and awe so I could stutter out something, anything in response. The realization that Morris Halle took my work seriously was a turning point for me.
My second strong memory is from my early days as a student at MIT, when I was getting comments back from him on some paper I'd done. I dutifully took notes on what he said so I could go home and think about it, but he would have none of that. "Argue with me! Argue with me!" is something I imagine every one of us heard from him.
And there are the memories of going in to Morris's office week after week to talk about some new fragment of my research. Each week he had read it and made notes in the margins and then picked out a key point to challenge me on, arguing strongly for A where I had tried to make the case for not-A. The next week, I would come back set up to argue for A and Morris would then take the not-A position…oh, right…argue with me!
One of my most treasured compliments was when a graduate student of mine at [University of Arizona] who, after meeting Morris, observed that I "channel Morris" in my teaching. It is special to me to be able to stop and think about what an influence he had on who I am and how glad I am that my life unfolded in a way that I could benefit from him. I am a better teacher and a better linguist for his influence.
And here's a similar memory from Dick Oehrle:
The conversation took place in Morris's office in the summer after my first year at MIT, while I was investigating patterns of English word stress in preparation for writing a phonology qualifying paper. I had a few tentative observations, rearranging in some minor way some of the details of the monumental edifice of English stress that Morris had constructed in The Sound Pattern of English (with Noam Chomsky) and English Stress: Its Form, Its Growth, and Its Role in Verse (with Samuel Jay Keyser). Morris looked at me and said, "You know as much about this as I do. Argue with me." Never was a false sentence so liberating. Thank you, Morris—teacher, mentor, friend.
In 2013 The New Yorker published "Happy Birthday, Morris Halle" by Gary Marcus, in honor of Morris's 90th birthday. John Goldsmith and Haj Ross interviewed Morris in that same year for the series Lives in Linguistics.
Update — Peter Dizikes, "Institute Professor Emeritus Morris Halle, innovative and influential linguist, dies at 94", MIT News Office 4/3/2018.
---