« previous post | next post »
Undernegation of the week, from a reader down under — Jack Waterford, "AFP bloodhounds still just sniffing about", The Canberra Times 3/31/2018:
The AFP raids were at the behest of the Registered Organisations Commission, which claims to have feared that the AWU might be in the process of destroying documents relevant to a civil investigation. The AWU claims, not with at least superficial plausibility, that the raids were politically motivated and for improper purposes.
Context:
AFP = Australian Federal Police
AWU = Australian Workers Union
Registered Organisations Commission: a body established by the current right-wing government to oversee "registered organisations" including unions, and which some suspect of have an anti-union agenda
More examples of misnegation than you could possibly want: "No post too obscure to escape notice".
The obligatory screenshot: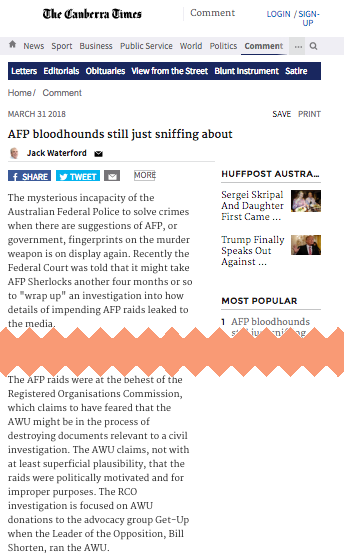 ---