« previous post | next post »
I'm always happy to learn new things about playground culture. Like language, it's somehow completely consistent and endlessly variable across time and space. And now that my main source for contemporary playground lore (e.g. "Pickle jinx", 12/16/2003; "High jinx", 12/17/2003) has graduated to new sorts of games, I have to rely on internet clues like this: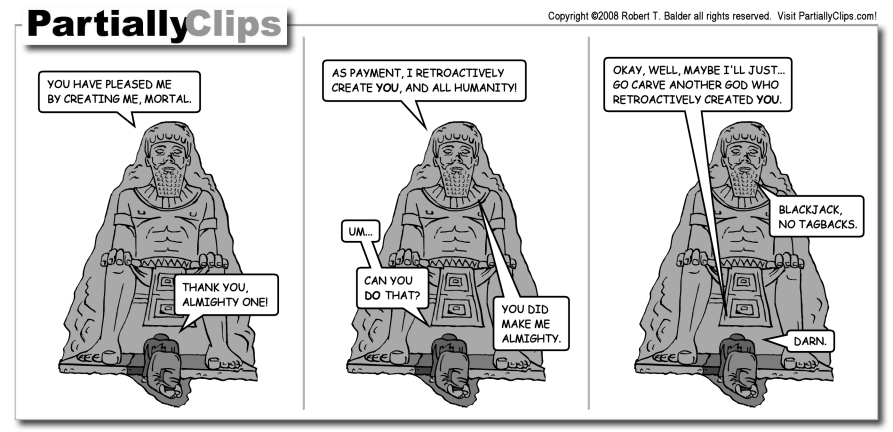 The phrase "no tagbacks" is familiar from my childhood — and the concept presumably goes back to paleolithic times — but the use of "blackjack" in this context is new to me. And in this particular case, the internet has so far failed to provide the answer. [Update: but Ray Girvan came through].
However, my searches did turn up some playground lore that I somehow missed when it made the news — or at least the Daily Show — back in 2005. The context was the Valerie Plame story. Matt Cooper described his 2003 conversations with Karl Rove on this topic as being on "double super secret background", which many people, including me, perceived as a reference to Animal House ("Bakhtin in the West Wing", 7/18/2005). Stephen Colbert explained that "double super secret background" is
… just like regular background but with no tagbacks, frontsies or backsies, taken to infinity plus one on opposite day, circle circle dot dot now you've got a cootie shot. It was first pioneered by Edward R. Murrow.
This just adds to the "blackjack" mystery, though, because I only know frontsies and backsies as aspects of the culture of lines — "frontsies" if you let someone into the line ahead of you, "backsies" behind you — with frontsies sometimes being allowed but backsies never, due to complex but deeply felt considerations of fairness. And likewise, "infinity plus one" and "opposite day" are familiar concepts, but connected to "tagbacks" only by virtue of being terms of art in playground jurisprudence. So I assume that Colbert's writers were just piling up playground words for comic effect, without any particular attention to logic or even relevance.
The "cootie shot" rhyme was new to me. When I was a kid, there was certainly an extensive body of playground lore about "cooties", but no procedures or incantations for anti-cootie innoculations. In this case, however, Wikipedia came through with the explanation.
The OED's earliest citations for cootie in the sense of "body louse" come from the WW I era:
1917 EMPEY From Fire Step 24 'Does the straw bother you, mate? It's worked through my uniform and I can't sleep.' In a sleepy voice he answered, 'That ain't straw, them's cooties.'
1918 in F. A. Pottle Stretchers (1930) 199, I could soon fall asleep thinking how absurd to worry over lice and cooties when a man was at war.
1918 E. M. ROBERTS Flying Fighter 106, I made the acquaintance of a new sport while with the battery. A saucer serves for an arena. Into this one puts a kootie and a flea.
The Wikipedia entry, however, suggests an origin in "the American occupation of the Philippines, in 1898-1945, and before that to British soldiers' presence in Malaysia".
By the time I was growing up in rural eastern Connecticut, the term was extensively used by children in the sense described by the OED's draft addition of March 2006:
orig. U.S. A contagious germ; esp. (chiefly Children's slang) an imaginary germ with which a socially undesirable person, or one of the opposite sex, is said to be infected. Usu. in pl.
But the OED's earliest citations for this are way too late, though I don't have any earlier ones to offer:
1967 B. CLEARY Mitch & Amy iii. 51 Quit breathing on it… We don't want any of your cooties in the pudding.
1973 Jrnl. Amer. Folklore 86 135 A child who is habitually referred to as 'having cooties' is likely to be the poorest, dirtiest, most psychologically troubled child in the classroom… In a New Hampshire school, the boys had the 'cooties' and chased the girls.
Anyhow, I'm still not clear what "blackjack" is doing in "blackjack, no tagbacks", and I'm relying on readers to help me out. [But please don't tell us about the card game, we all already know that.]
---