« previous post | next post »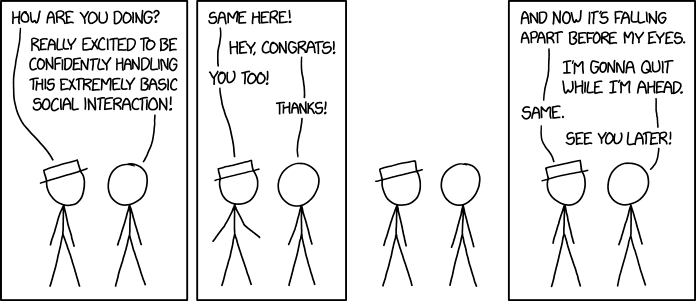 Mouseover title: "[They do not move.]"
This reminds me of a computer program, demonstrated to me in the early years of Classical AI, around 1975, that aimed to model communicative interaction by applying Gricean principles as axioms in a general-purpose theorem prover. The author typed "Hello" at it, and then suggested that we go to lunch, rather than waiting around for the system to decide to answer "Hello" back.
I ventured to suggest that maybe some simple interactions of this type could be scripted, and was told "But this way, the system really means it!"
I'm reminded, in turn, of Daniel Zettwoch's Deadlock strip, which brought the same experience to mind in the early days of LLOG ("Conversational game theory: the cartoon version", 11/24/2003). See also "Relationship R&D", 2/13/2010.
---