« previous post | next post »
Sara Scharf sent in a link to a Chinese menu picture from the Bad Translations group on flickr: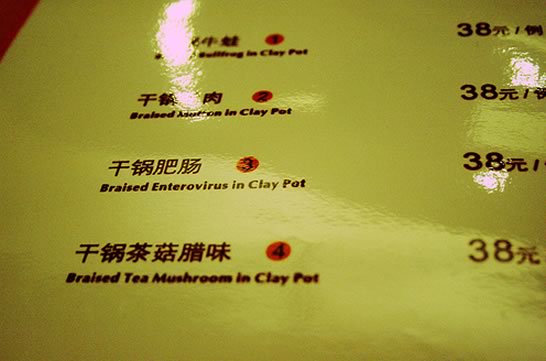 Victor Mair explains that 干锅肥肠  GAN1GUO1 FEI2CHANG2  — literally "dry pot fatty intestine" — is a popular Sichuanese-Hunanese dish, illustrated and explained here.
Victor continues:
A bilingual list of terms containing 肠 CHANG2 "intestine" is here.
The Chinese word for enterovirus is CHANG2 BING4DU2 or CHANG2DAO4 BING4DU2 肠(道)病毒.
As you can see, neither by confusion of sound nor by confusion of shape can one (or, I should think, even a machine translation program) mistake FEI2CHANG2 肥肠 ("fatty intestine") for CHANG2(DAO4) BING4DU2 肠(道)病毒 ("intestinal virus"). Consequently, I am inclined to believe that the "Braised Enterovirus" on this menu arose as the result of much talk about enterovirus in China (there was a major outbreak in early May of this year), and somebody involved with the making of the menu who heard or saw the English word for the disease next to the Chinese term making the assumption that "enterovirus" = CHANG2.
In fact, the restaurant avoided the standard translational pitfall here. Note that the 干 GAN1 of 干锅 GAN1GUO1 "dry pot" has often been discussed before on Language Log: "Engrish explained", 3/11/2006; "Gan: Whodunnit, and how, and why?" 5/31/2006; "Further thoughts on the riddle of gan", 6/3/2006; "The shrimp did what to the cabbage?", 9/11/2006; "The etiology and elaboration of a flagrant mistranslation", 12/9/2007.
Victor also sent a link to a livejournal post with a picture of a GAN1 menu jackpot: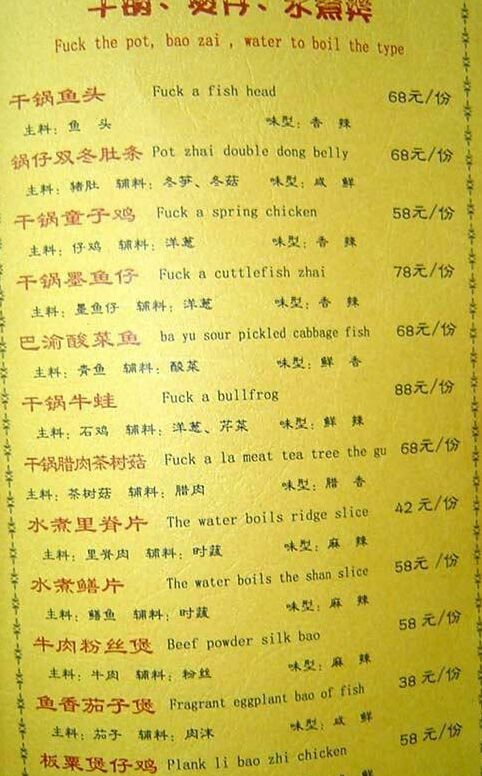 All of this leads me to ask a bio-sociological question.
There are many foods that incorporate bacteria or depend on bacterial action: buttermilk, yoghurt, cheese, sausage, sauerkraut, kim chee, chocolate, coffee, vinegar, sausage, fish sauce, some kinds of wine, etc. You won't find Tandoori Murgh translated as "Broiled chicken marinated in bacteria", or Nam Pla Prik translated as "Bacteria sauce with chile" — but it wouldn't be entirely wrong.
In contrast, I can't think of any foods where viruses play a crucial role. Are there any?
---