« previous post | next post »
RichG sent in a link to Matt Pierce and David Montero, "Warrants in Las Vegas mass shooting reveal name of additional 'person of interest", LA Times 1/30/2018 [emphasis added]:
Authorities were looking into an additional "person of interest" following the mass shooting in Las Vegas that killed 58 people and wounded hundreds of others, according to search warrants unsealed by a Nevada judge Tuesday.
Though Stephen Paddock has been identified as the lone gunman in the Oct. 1 massacre, and authorities had been looking at his girlfriend, Marilou Danley, the court mistakenly failed to redact another name from the warrants: Douglas Haig.
That is the name of a Mesa, Ariz., ammunition dealer who runs a website called Specialized Military Ammunition, which touts itself as "your source for premium, MILSPEC, tracer and incendiary ammunition in popular military calibers," including ammunition that "ignites diesel and kerosene." (Officials have said that Paddock shot at aerial fuel tanks during the attack, although they did not ignite.) […]
The Las Vegas Review-Journal was the only publication to receive the mistaken document, which identified Haig as a "person of interest." It's the first public acknowledgment by law enforcement that a third person had been investigated in relation to the crime.
District Court Judge Elissa Cadish apologized for the error and issued a gag order on any publication of the original document that included the name.
"I ordered them redacted and thought they were redacted not only to protect the investigation, but because of concerns about possible danger to this individual," Cadish said. "Unfortunately, I think the reality is now that it's up online and I don't think there isn't a darn thing I can do to take it off."
Rich comments, "I have no idea if this is an over-negation or a mangled misquote. My suspicion is the latter". Given years of experience with journalistic quote (in)accuracy., I tend to agree — but I'll add this to the misnegation archive anyhow.
Obligatory screenshot: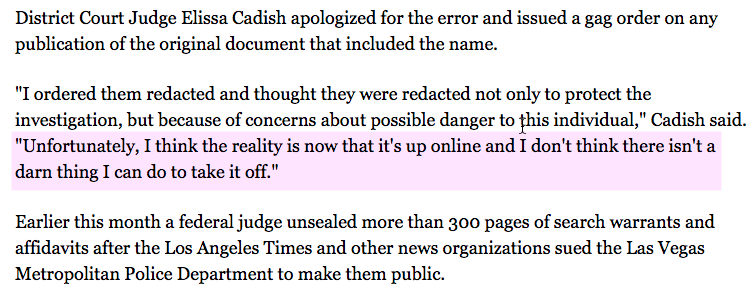 ---