« previous post | next post »
Courtesy of Stephen Bullon in East Sussex, here's a headline to test your crash blossom mettle:
Bright sparks weather gala night power cut to party on
Stephen didn't send a scan, and the article doesn't appear (yet?) on the paper's web site, but apparently it was actually printed in the physical version. It took me four or five readings to figure out what (I think) it means.
Here's a picture of the print version, complete with a baker's dozen of bright-spark photos: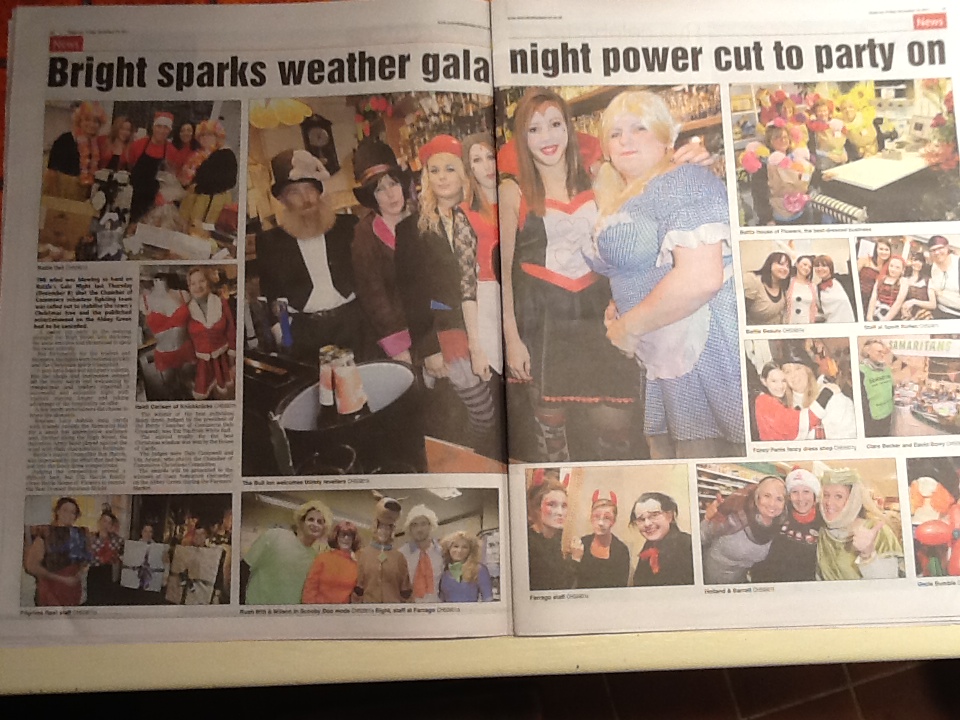 And the start of the article:
The wind was blowing so hard on Battle's Gala Night last Thursday (December 8) that the Chamber of Commerce volunteer lighting team was called out to stabilise the town's Christmas tree and the publicised entertainment on the Abbey Green had to be cancelled.
A power cut early in the evening plunged the High Street into darkness for some minutes and threatened to spoil the event entirely.
But fortunately for the traders and shoppers, the lights were restored quickly and the Christmas spirit triumphed.
It may have been wet and gusty outside, but the shops and businesses seemed all the more warm and welcoming by comparison and traders reported a successful and enjoyable night with visitors staying longer and taking advantage of the hospitality on offer.
---