« previous post | next post »
Laura Bailey sent in this Chinglish specimen from Jingzhou, China which was spotted by John Hotchkiss and published as sign of the week no. 181 in the travel section of the Telegraph: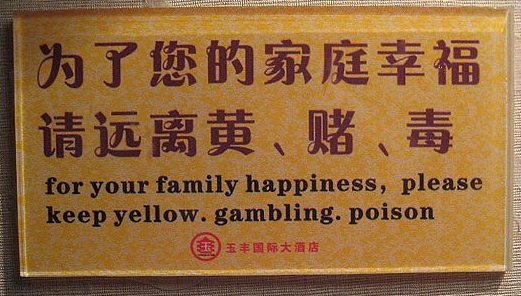 The Chinese wording reads:
Wèile nín de jiātíng xìngfú
为了您的家庭幸福
qǐng yuǎn lí huáng, dǔ, dú
请远离黄,赌,毒
Beneath the Chinese is the following English translation: "for your family happiness, please keep yellow, gambling, poison."
Anyone reading this English translation will be completely dumbfounded and have no clue whatsoever about what they are expected to do for their family happiness. Even if they are curious enough to consult the most popular online translation services, they will still be left in the dark.
Google Translate: For your well-being of your family away from pornography
Baidu Fanyi: For the happiness of your family from vice
Babel Fish: For your family happy please be far away from Huang Dudu
What the Chinese really means is this: "For your family's happiness, stay far away from prostitution, gambling, and drugs."
The first clause is easy, both for machines and for humans. But the second clause shouldn't be that difficult either.
qǐng 请 ("please")
yuǎnlí 远离 (["stay / keep] far away from")
It is the next three characters that seem to throw everything and everyone for a loop. Perhaps it is the inserted commas that disturb the interpretive processes. After all, the expression "huángdǔdú" 黄赌毒 garners a phenomenal 3,630,000 ghits.
So what does it mean?
In a sense, we may say that "huángdǔdú" 黄赌毒 is a sort of acronym standing for:
1. huángsè 黄色, lit. "yellow color," but also meaning "pornography" and, by extension, "prostitution"
2. dǔbó 赌博 ("gambling")
3. dúpǐn 毒品 ("drugs, narcotics" and, by extension, "drug trafficking")
Hence, "huángdǔdú" 黄赌毒 refers to the sorts of things that vice squads go after, and if you look up 黄赌毒 on Google (especially Google images), you will read reports and see images of raids on dens of iniquity where police are hovering over and rounding up individuals who are engaged in such activities.
Cantonese has an extended quadrisyllabic, acronymic expression that boils down to the same thing ("vice"):
wong4 dou2 duk6 hak1 黃賭毒黑 ("prostitution and pornography, gambling, narcotics, and organized crime")
wong4 黃 = all businesses and materials of a sexual nature (such as "yellow" films, novels, magazines, prostitution, etc.)
dou2 賭 = gambling
duk6 毒 = drugs
hak1 黑 = organized crime (from hak1 se5 wui2 黑社會 [lit., "black society"])
The failure to convey the meaning of "huángdǔdú" 黄赌毒 stems from the breaking up of what is essentially an acronym into its constituent components without restoring them to their full forms.
Finally, the only context we have for the sign is that it is either in or sponsored by a hotel (as evidenced by the fine red print at the bottom). So what does a sign like this have to do with a hotel? Well, those of you who have stayed in less reputable Chinese hotels know what it is like to receive those dreaded phone calls in the middle of the night, in which a woman asks if you're lonely and need anything from her. And, if you are concerned about the well-being of your family, you had better be careful when you go to their barber shops and massage parlors.
---