« previous post | next post »
One of Matt Wuerker's 2017 political cartoons: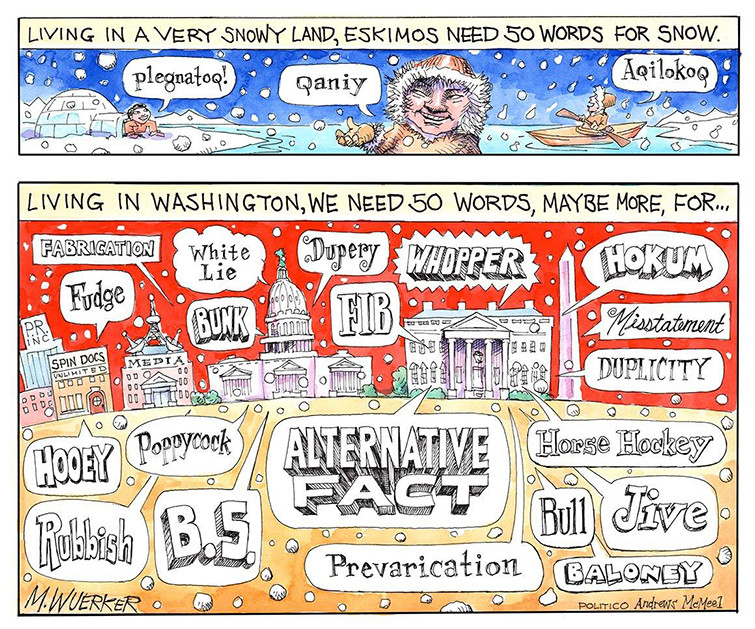 Wuerker is obviously taking graphical advantage of an elderly cliché, which pivots off of the allegedly large number of Eskimo snow words in order to decorate a claim that the culture of group X is (perhaps excessively) preoccupied with Y. For many examples of X and Y, and instances of other metaclichés, see this list of posts from Language Log Classic, or the contents of the Snowclone category in the current version. A similar conflation of concepts and (single) words, with similarly loose lexicographical standards, lies behind the "No Word for X" trope.
One interesting difference here is that the non-Eskimo side of the comparison includes a couple of two-word phrases — though one of them ("alternative fact") was used by a public figure last year, and widely enough mocked in the media to earn its own Wikipedia page. Given that, it's interesting that he left out "fake news".
Another feature of the cartoon is that Wuerker seems to have looked up some of the actual Inuit words for snow, though he appears to have mistranscribed "piegnartoq" as "plegnatoq" and "Qaniq" as "Qaniy". (Some better-informed readers may explain to us that these are actually inflected or derived forms from one or another of the Inupiaq varieties, but my bet is that they're scribal errors.)
Anyhow, this is the most honest snowclone I've seen in a while, since (1) it's a joke, and (2) it attempts to present just three examples on the "Eskimo" side.
---