« previous post | next post »
There's a free web-based tool for IPA entry at i2speak.com: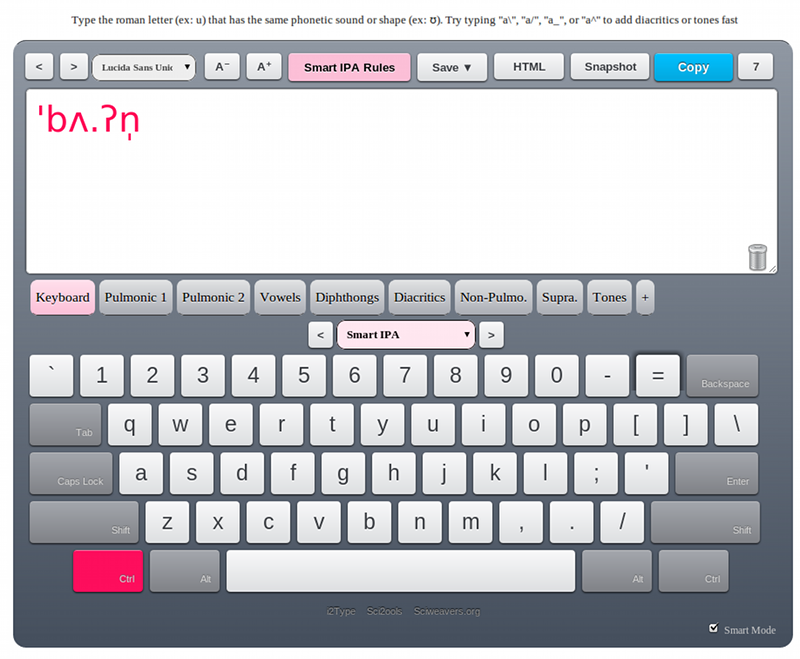 Some people may prefer this to Weston Ruter's excellent IPA keyboard, which has been my IPA-entry method of choice for the past five years. The ability to type mnemonic characters and select from a menu of alternatives, and the availability of specialized keyboards like "Sampa English", ought to make it much easier to enter significant amounts of IPA. I certainly plan to give the i2speak tool a try.
There are a few oddities. For example, the "Vowels" panel shows the traditional IPA vowel quadrilateral, and allows you to click on any of the symbols in order to place them in the output window, as expected. And a few of the symbols have helpful mouse-over popups that give English examples. But the selection is oddly incomplete, and at least one of the choices ([e] exemplified as "met, bed") is wrong, at least in most dialects of English. (See the comments below for some discussion of where this might come from. Perhaps the i2speak implementers might offer a "Setting" panel that would a choice among alternative example-overlays for the vowel display.)
I expect that these few problems will get straightened out as the authors get feedback from users.
Here's a term project for a speech synthesis class: find someone who can perform arbitrary IPA sequences effectively, and create a synthesizer that can pronounce arbitrary IPA strings (at least modulo some sensible phonotactic restrictions). This project poses significant design problems (What synthesis approach to use? How to set up the background database? What sorts of sequences should you attempt to cover?) as well as implementation and testing problems.
There's also a scientific (or perhaps philosophical) dimension. Presumably this "universal IPA synthesizer" would not in fact be at all suitable as a practical synthesizer for all the world's languages. Why not? What would be missing? Could such a system in principle be supplemented with minimal language- or dialect-specific parameters (or even individual-voice parameters) that would bridge the gap between oddly foreign-sounding pronunciations and the level of performance that we expect from a high-quality synthesis system using today's best technology?
---