« previous post | next post »
Forwarded by Alex Baumans, an email advertisement from Legend Footwear in London — "RESTOCK YOUR SHOEDROBE FOR WINTER!"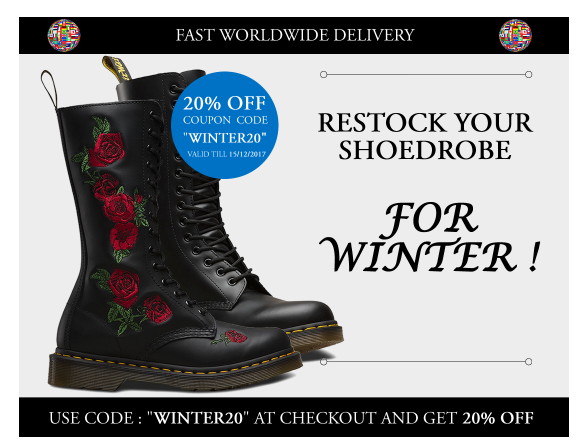 Alex asks:
Shoedrobe? How did that formation come about? Are there other -drobes out there?
There are certainly plenty of other shoedrobes out there, including a twitter hashtag, an instagram hashtag, and quite a few news-ish quasi-advertisements, e.g. "Shoe-drobe Envy: Kylie Jenner"; "Festival Footwear Shoe-drobe Guide"; "Time to Stock Your Shoedrobe"; "What's in my Summer Shoedrobe?"; "Design File: Volve S90 Excellence Comes With Shoe-Drobe"; "Shoedrobe Update"; etc.
The historical source of wardrobe is Norman French warderobe, apparently a calque of French garderobe, and so the original morphological ward+robe gets resyllabified to war.drobe, and then the  final syllable 'drobe emerges via the same fashion for cutesy final-syllable abbreviations as 'stache, 'rents, 'za, etc.:
[link] lace fabric and beaut feather design, make sure you pull this bodycon to the front of your 'drobe!
[link] Welcome to Drobe it! We're a new fashion-based social platform. Drobe It is a place to share your style, outfits and wardrobe.
[link] RJ. returned the smile. "I have to protect my 'drobe," he quipped. "Your 'drobe?" "Yeah. My wardrobe." RJ. tugged on the collar of his worn T-shirt. "Once you get one of these babies worn to the comfort zone you don't want to stain it with meat juices or anything."
And there's a British clothes label War & Drobe whose web site explains
War & Drobe garments are proudly handmade in London by founder and creator of the label Nina Kovacevic. As a child Nina came to London fleeing the war from former Yugoslavia. It was during this time that her mother taught her the power of fashion and the strength it can bring. The label was named and born out of a love for empowering women through fashion and allowing them to feel fierce and feminine in their day to day lives.
Neither 'drobe nor shoedrobe has yet had its OED Word Induction Ceremony. Whether the linguistic undergrowth is starting to breed shirtdrobes, bootdrobes, tiedrobes, pandrobes, etc., I leave to others to discover.
Alex again:
On a sidenote, does there exist a term for this kind of erroneous suffix-formation. Other cases such as -athon, -gate, -copter or -droid spring to mind, none of which are supported by the etymology of the original word.
Since it's time to start my workday, I'll also leave this one for the commenters to answer.
---