« previous post | next post »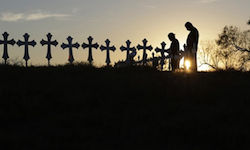 It's the saddest thing I have seen in many months of sad news: The front page of the Metro, a free newspaper given away on the buses in Britain, said "At least 27 people were killed during a morning church service in the latest US shooting massacre."
"The latest"! They're now so routine that the Metro has switched from indefinite to definite article. It's not "a terrible shooting massacre in the US" anymore, it's just "the latest US shooting massacre." Everyone knows there will be more. This one was merely the latest. The governor's prayers are with the people of Sutherland Springs; the president sends word from Japan that it wasn't about guns, it was about mental illness. See page 4 for the Queen's investment in offshore tax havens, page 6 for the governing party Member of Parliament who puts his hand up women's skirts in elevators.
---