« previous post | next post »
Today's Girls with Slingshots opens with this exchange between Clarice and Tucker: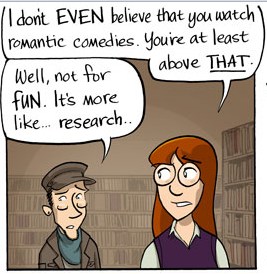 Clarice's contribution is a nice example of the new (?) negative-polarity emphatic even (discussed in "What does 'even' even mean?", 2/8/2011). Danielle Corsetto, the strip's author, puts this instance of emphatic even in caps to indicate prosodic focus, which emphatic even doesn't always have — perhaps some aspiring even-ologist can figure out why it sometimes does and sometimes doesn't.
The whole current GWS strip, for context:

Actually, as often in comics and in life, you need a little more context to understand what's going on.  Skipping some background, this all starts with Tucker hitting on Clarice in the library where she works: 1181, 1182, 1192, 1193.
He tries to blackmail her into going out with him (1212), by threatening to reveal the fact that she supported herself as a dominatrix while getting a degree in library science (as I said, there's some background I skipped). That thread continues through 1213 and the intervening numbers to 1220 and 1221, where Clarice persuades Tucker that he'd do better to leave her alone; but nevertheless she decides to teach him how to interact with women.
Clarice picks up that quixotic enterprise in the most recent series, in which she advises conversation as a way to establish an initial connection. This, of course, brings up the difficult issue of what people mean by what they say and how they look, in romantic comedies and in life: 1252, 1253, 1254, 1255, 1256, 1257.
---