« previous post | next post »
It's not just young people who are apparently losing the ability to produce and interpret cursive writing. I missed a striking example a few months ago when a reporter for the Daily Mail demonstrated ignorance of the standard way to write a cursive capital "G" ("Some 'genius'! Suspect on assault charge pictured with misspelt tattoo", 2/4/2011):
It's wrong on so many levels.
As if covering your face with ugly DIY tattoos wasn't a dumb enough thing to do, this suspect in an assault case even managed to misspell the one that runs right across his forehead.
Jerome Smith had the word genius written with a 'j' instead of a 'g'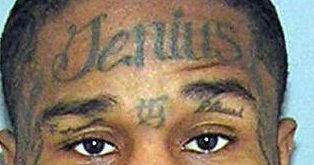 Jerome Smith may have tattoos all over his face, but the Daily Mail has egg all over its face, because the word Genius on Mr. Smith's forehead is not "spelled with a j instead of a g". Apparently the Daily Mail's reporter thinks that the tattooed first letter is a "J" with a little squiggle of a curlicue hanging down from the top left, rather than a nicely formed cursive capital "G".
But let's see if there are any real mistakes among Jerome Smith's multilingual tattoos. On his right eyelid I think that I can see "Forever", and on his left eyelid it seems to say "Blessed"; although the "Forever" trails off into a straight line after the third letter, there doesn't appear to be any obvious error with either of them.
On his neck we read "omerta," the Mafia term for "code of silence". Sticklers will note that the final letter should have an accent, thus "omertà". That's a minor blemish.
On his right cheek is chǒu 丑 ("ugly"), on his left cheek is huài 坏 ("bad"), and at the top of his nose is mā 妈("mom"). All three are legible and basically correct, but the quality of the calligraphy deteriorates from the first to the last.
Perhaps some eagle-eyed Language Log readers can spot a few more words hiding in various corners of Jerome Smith's face, but I will stop here, adding only that I think the word "Genius" on his forehead is actually quite well executed. As for the editors at the Daily Mail, in the unlikely event that they care to learn where they went wrong, they could begin by reading this: "Cursive and Characters: Dying Arts".
[A tip of the hat to Michael Carr for calling the Mail article to my attention]
---