« previous post | next post »
FDR had his weekly "Fireside chats", and in 1982 Ronald Reagan began the modern tradition of weekly presidential addresses, which U.S. presidents since then have maintained. I don't think that very many people actually listen to these things — no one that I've asked has ever admitted to regular consumption. But I've been collecting them since 2004, and listening to most of them, and a few days ago I noticed something.
What I noticed is that president Obama seemed a mite testy in his weekly address for  10/1/2011 ("Fighting for the American Jobs Act"). This led me to ponder the phonetics of testiness, and of emotional expression in general. For this morning's Breakfast Experiment™ I thought I'd take up one small aspect of one dimension of this large topic, namely what happens to F0 ("fundamental frequency", commonly called "pitch") when you "raise your voice".
Now, different people have different characteristic pitch ranges; and for any given person, there are lots of reasons that pitch range might go up or down. You raise your voice when the ambient noise level is higher — you can't help it, this is known as the Lombard Reflex, and it's why people who are listening to iPods while they talk tend to be perceived as shouting by people who inhabit a quieter space. You raise your voice — or at least you should — when you're talking to people who are farther away from you; if you don't, they won't be able to hear you. "Raising your voice" in this sense involves more subglottal pressure, more vocal effort, higher amplitude, and also higher pitch.
But there are also effects of what we might call "arousal" — when you're animated and engaged, you also tend to raise your voice. And you can be animated and engaged because you're happy and excited, or because you're annoyed or angry.
I decided to compare president Obama's weekly address for 10/01/2011, where he seemed to me to be animated in a somewhat negative way, to another recent address, the one from 8/6/2011 ("Getting the Economy Growing Faster"), where he seemed much calmer. Both of these addresses are about his relationship with Congress. And both were recorded in similar settings, with the president in what seems to be essentially the same relationship to the camera, so there should be no difference in background noise level to cause the Lombard Reflex to kick in, and no difference in audience distance or size to cause a change in vocal projection.
A clip from the August 6 address is first, and one from the October 1 address follows:
Audio clip: Adobe Flash Player (version 9 or above) is required to play this audio clip. Download the latest version here. You also need to have JavaScript enabled in your browser.

This week, Congress reached an agreement that's going to allow us to make some progress in reducing our nation's budget deficit.  And through this compromise, both parties are going to have to work together on a larger plan to get our nation's finances in order.  That's important. We've got to make sure that Washington lives within its means, just like families do.  In the long term, the health of our economy depends on it.

Audio clip: Adobe Flash Player (version 9 or above) is required to play this audio clip. Download the latest version here. You also need to have JavaScript enabled in your browser.

Hello, everyone.  It's been almost three weeks since I sent the American Jobs Act to Congress – three weeks since I sent them a bill that would put people back to work and put money in people's pockets.  This jobs bill is fully paid for.  This jobs bill contains the kinds of proposals that Democrats and Republicans have supported in the past.  And now I want it back.  It is time for Congress to get its act together and pass this jobs bill so I can sign it into law.
I pitch-tracked both speeches (well, all of the hundreds of speeches I've collected for the past few presidents, but that's another story), and plotted a comparison of the percentiles: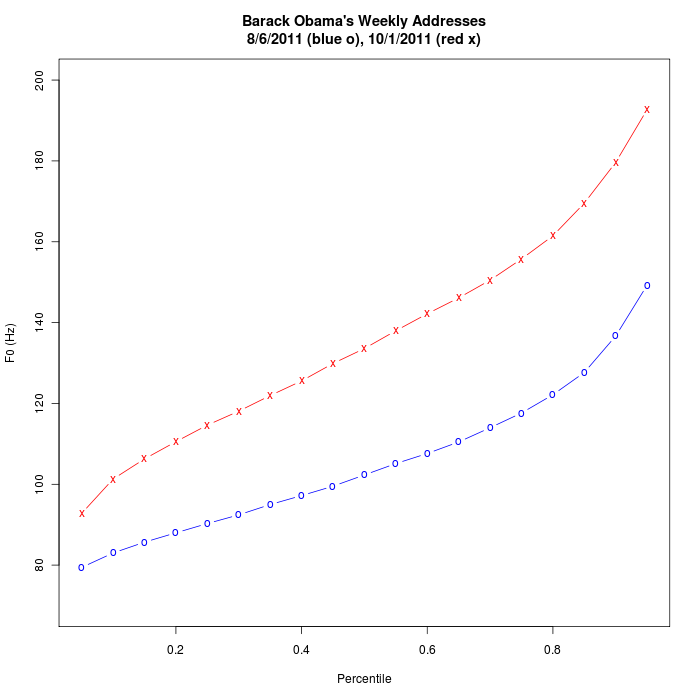 Here's the same data plotted in semitones relative to A 55: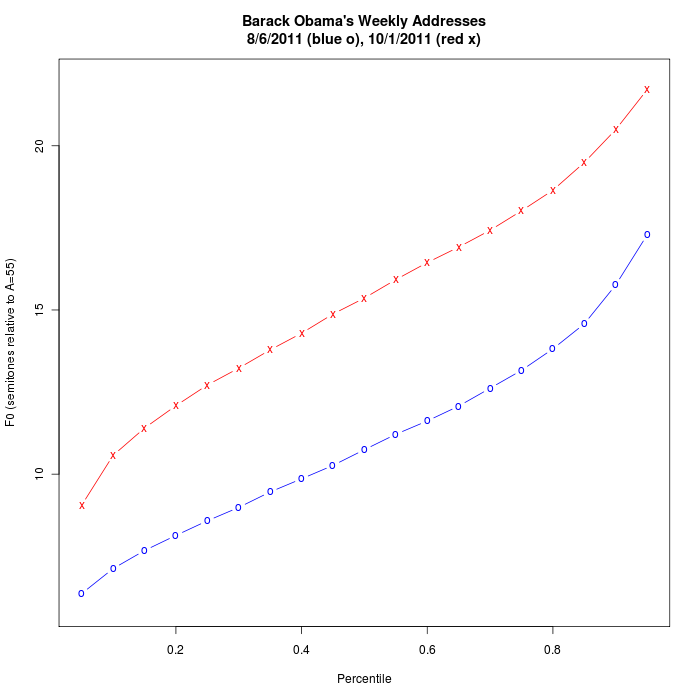 The difference is a fairly large one: an average pitch of 137.3 ±0.38 Hz on October 1, vs. an average of 106.6 ±0.31 Hz on August 6, for a proportional difference of about 29%.
To avoid misunderstanding, let me repeat that there are lots of reasons for someone's pitch range to vary, so that this is not a reliable metric for physiological arousal. But when other things are held constant, it can be interpreted that way. And it's easier to quantify and compare than things like voice quality are.
[Note: the confidence intervals on the average pitch estimates are just the usual ±1.96*s.e. For all the usual reasons, and some unusual ones as well, these are not very meaningful or even trustworthy bounds.]
Update — Arguably, both of these addresses are atypical, in opposite directions. This is suggested by a comparison of the F0 percentiles in these two addresses with the overall F0 percentiles for the 125 weekly addresses that I've collected so far for President Obama. In Hz: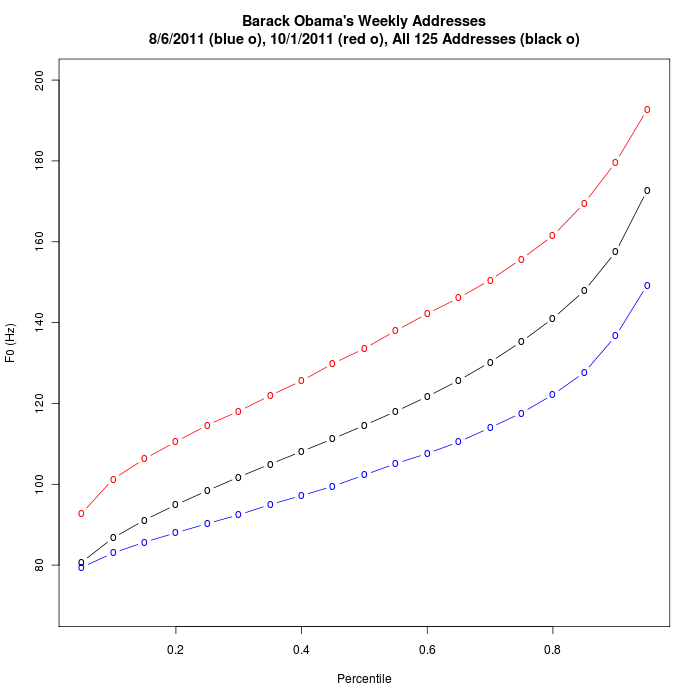 And in semitones: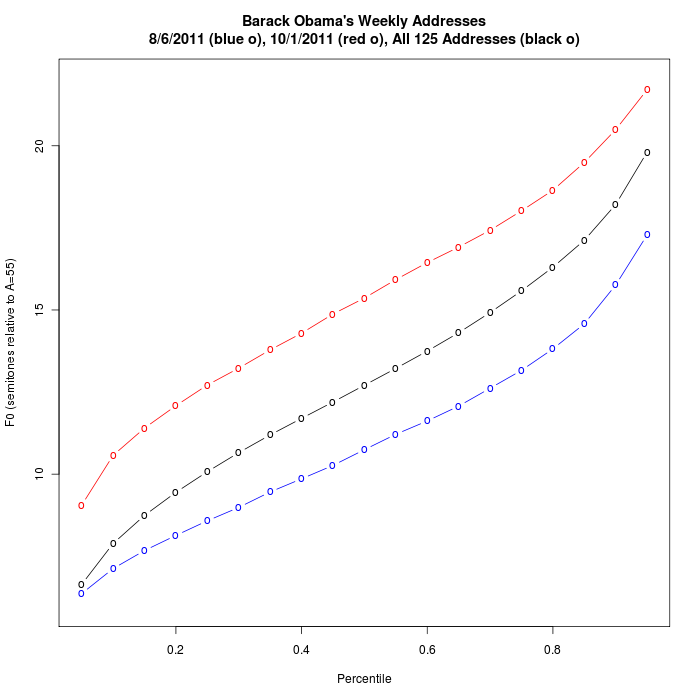 ---