« previous post | next post »
A tip from Twitter:
Possibly the most spectacular crashblossom I've ever seen; anyone @LanguageLog care to comment? https://t.co/yIxsolaZ65

— Tigerfort (@StripeyCaptain) September 12, 2017
The headline: "Man who urinated on woman at Drake concert before drink-drive killer girlfriend started brawl over avoids jail", The Mirror 9/11/2017: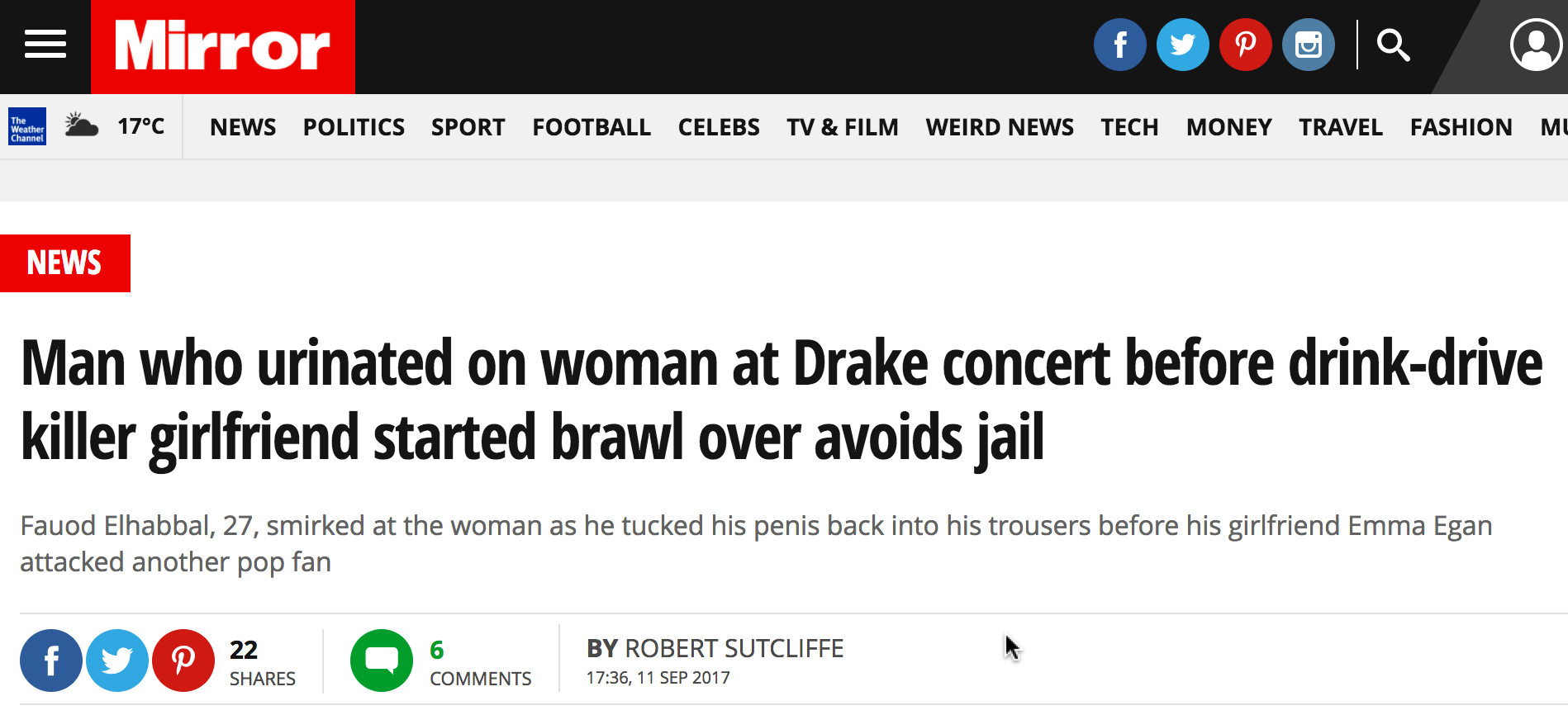 Ben Zimmer writes:
Even after reading the article I'm not sure how this headline is supposed to work. What's the complement of "over" supposed to be?
Maybe the killer girlfriend started the brawl over, i.e. started it again after it had ended. It's true that the article doesn't really support this idea, but whatever.
Update — David Beaver figures it out:
My best pre-reading-the-article parse of "drink-drive killer girlfriend started brawl over"  was that it meant "the drink drive killer that the killer's girlfriend started a brawl over". I was proud of that parse. But I was in fact wrong. I suffer from the same problem as Ben here, namely that I speak English.
So here's the apparent intention: There was a man who urinated on a woman at a concert by Drake, and later, the man's drink-drive-killer girlfriend started a brawl over him, but she avoided jail.
A resumptive pronoun is a pronoun that occurs where you might expect a gap. So this example illustrates (among other things) a resumptive gap, the inverse of a resumptive pronoun. The gap is sitting in what is supposed to be an extraction island in a subordinate clause, which is itself in some sort of attempted unbalanced subordination relation with a previous gapped clause. If we pop enough acid we should be able to parse it eventually.
And Geoff Nunberg commented:
"Resumptive gap"! PhDs have been awarded for less.
More twitter commentary here.
---