« previous post | next post »
Spotted by Oliver Renwick's wife, while waiting for a train in Fes, Morocco: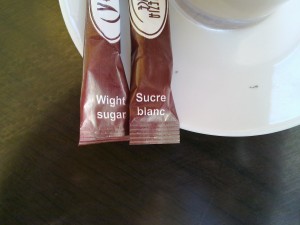 Oliver's comment:
I don't think I've heard the word 'wight' outside of Tolkien, and I don't understand, even with a machine, how you could get 'wight' from 'blanc'. The only conclusion I can come to is that we actually had a human translator who didn't know how to spell 'white' and yet thought they were qualified to continue with a translation that now appears on who knows how many tens of thousands of sugar packets.
The OED gives Tolkien's usage as sense 1.b, "orig. and chiefly with (good or bad) epithet, applied to supernatural, preternatural, or unearthly beings", noting that it is "Obs. or rare arch." and was used "In the 17th c. esp. of the four beasts of the Apocalypse".  The other senses are not much more appropriate — e.g. "1.c. A local name for the shrew-mouse" (who knew?), or 2.a. "A human being, man or woman, person. Now arch. or dial. (often implying some contempt or commiseration)".
However, a bit of web search does turn up some precedents. For example, a document from the National Agricultural Policy Center of the Ministry of Agriculture and Agrarian Reform of the Syrian Arab Republic, "Agricultural Support Policies in EU for Selected Products", tells us that
The total sugar production quota for the EU-25 in 2004 is 17, 4 Million Ton of White Sugar Equivalent (WSE)1.
but then in the footnote adds that
Every 1 ton wight sugar equal 1,078 ton from raw sugar
As a rather poor speller myself, and a critic of the bizarre English spelling system, I sympathize. (But there's no politically realistic hope of reform, so please don't send me your carefully-argued proposals…)
---