« previous post | next post »
Well, two, anyway. From reader AH, who wrote "Even though I've been following the (deeply disturbing) story, it took me at least three tries before I parsed the headline correctly":
Amount cheerleader who refused to cheer rapist required to pay reduced
And from reader DM:
Snakes in underwear smuggler fined $400
Obligatory screenshots: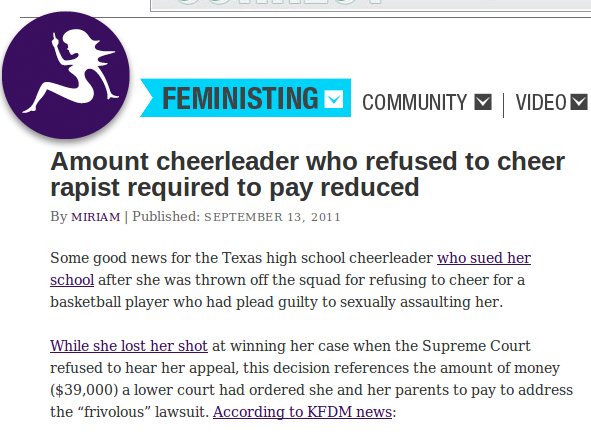 Note that this headline exhibits a center-embedded structure, explaining why AH had so much trouble with it:

As for the snake smuggler, Reuters let us off easy, because he was not just a "snakes in underwear smuggler", he was a "snakes and tortoises in underwear smuggler":

I guess he could accurately have been called a "reptiles in underwear smuggler". But any way you describe the unfortunate hatchlings, an attempt to make a noun compound out of a smuggler who hid them in his underwear is going to turn out badly.
This one is especially hard because the prepositional phrase "in underwear" is not (it seems to me) a modifier of the initial noun snakes — as it would be in plausible and genuine noun compounds like "time of day clock" or "ants in the pants game". Rather, "in underwear" wants to be a locative modifier of the agentivized verb smuggle. As a result, "snakes in underwear" is not really a constituent, since the corresponding verb phrase would be something like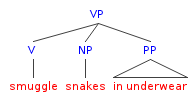 or maybe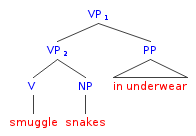 rather than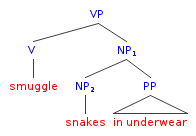 And independent of the locative modifier, the plural in "snakes smuggler" is at least a bit odd, though plural left-hand elements in compound nouns are not always bad.
Still, some ingenious reader will probably find a familiar Bible quotation containing an agentive-headed compound noun with the structure that I've rejected…
---