« previous post | next post »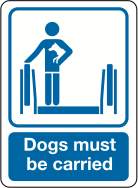 Whenever I visit England, I'm struck by the fact that escalators, moving walkways, and other public conveyances commonly have signs requiring users to carry dogs. I also always remember Martin Kay's observation that phrasal stress on the subject ("DOGS must be carried") suggests the absurd interpretation that "you can't use this facility unless you are carrying a dog", whereas stress on the verb remains consistent with the intended meaning "if you have a dog, you must carry it rather than have it go on its own feet".
There are several linguistic puzzles here. The first one is how to represent and explain the ambiguity in interpretation. One possibility is that there's an implicit universally quantified agent, "Dogs must be carried [by everyone]", which in any case needs to be contextually limited to "everyone using this facility", and then may or may not be further restricted to "everyone using this facility who is accompanied by a dog". And those skilled in the art will be able to think of several other semantic or pragmatic treatments, for instance involving the nature and scope of the deontic modal "must".
A second puzzle is why a difference in phrasal stress should apparently affect this ambiguity.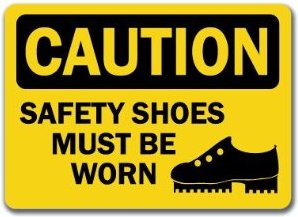 As evidence that the ambiguity is a real one, consider the many similar signs "Xs must be Y'ed" which mean that Y-ing Xs is required of everyone — no X, no access. A common value for X is  "safety shoes", which are shoes reinforced to prevent foot injury from heavy objects falling, sharp things sticking up, and so on. Signs warning that "safety shoes must be worn" don't mean "wear 'em if you've got 'em", they mean "wear 'em or keep out". (Pictured sign is courtesy of MySafetySign.com.)
And curiously, my impression is that the safety-shoes sign would naturally be read with main phrase stress on the verb.
There's a cultural puzzle here as well, namely why the "Dogs must be carried" signs are ubiquitous in the U.K., but (as far as I know) never seen in the U.S. It's possible that this reflects a general difference in human-canine relations, as argued here:
In England, dogs often follow their owners about all day, to work, to the Post Office or to the pub. This is considered normal, although any badly behaving dogs are not welcome. Each English town and city has their own level of dog-friendliness. Dogs are usually okay in country markets, but not welcome in large chain superstores, for instance. Dogs also are not allowed in human medical facilities.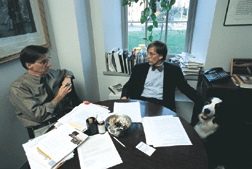 But this is not consistent with my own experience in several American cities, where I see plenty of dogs accompanying people on their daily errands. And nobody is more American than Rick Beeman, about whom this was written in 1998:
The biggest regret Rick Beeman, Ph.D. , has about his new post as dean for undergraduate education and director of the College, is that he no longer has time to take his Bernese mountain dog, Chief Justice John Marshmallow (Johnny) to doggy play group near Swarthmore College.
But Beeman has a solution: In the morning, he asks Johnny if he wants to go to work, and if he jumps in the car, off to work they go.
(It's true that Johnny could probably have carried Rick more easily than the reverse, but surely this is an orthogonal issue.)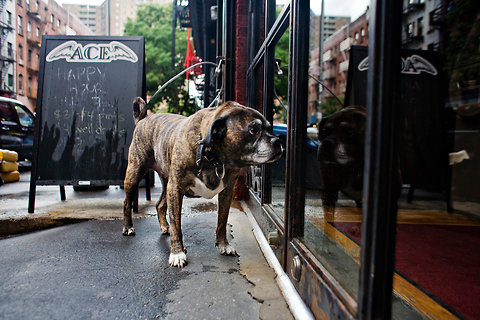 And I don't spend much time in New York City bars, but I was sorry to read this, just a few weeks ago (Matt Flegenheimer, "A Tradition Ends as Bars Shut Their Doors to Dogs", NYT 8/26/2011):
Miles has been going to Ace Bar all his life.
His face has grayed there. Friends have come and gone. He never paid for a drink, but rarely walked out of the East Village bar with an empty stomach. He may have purged his dinner on the floor a time or two, his fellow bar patrons said, but who among them hadn't done the same?
Over the past year, though, Miles has become the latest subject of what may be the city's least funny running joke: A dog walks into a bar — and the health department threatens to issue a violation for allowing live animals in a food establishment.
"He's a dog, but I swear he looks sad," Mike Israely, 33, said of Miles, his 9-year-old boxer-pug mix, as the dog peered through Ace Bar's glass doors Thursday night. "Coming here was part of our evening walk."
In fact, during six days in Manchester and two trips through the airport, I saw no dogs at all, carried or otherwise. So the fact that every escalator and moving walkway at Manchester Airport warns us that "Dogs must be carried", while no such signs can be found anywhere at Philadelphia International, remains as much a mystery to me as how that sign means what it obviously does.
---