« previous post | next post »
Unlike the fly-genetics text for $23,698,655.93 (plus $3.99 shipping) and other amusing by-products of algorithmic trading run amok, this amazon.com page features a real price that some people apparently pay for a real product:

AudioQuest's web site will explain to you at length about the K2's "extremely high purity Solid Perfect-Surface Silver (PSS) conductors", patented "Dialectric Bias System", "dual-spiral construction" with "4-cross geometry", and "partially conductive carbon-loaded polyethylene" insulation,  so that "a combination of these major ingredients, and many more subtle details add up to explain how even a reasonably priced cable like K2 can sound so good".
(Note that "even reasonably priced" is not a misprint.)
But about a year ago, some of amazon's customers began submitting critical reviews of this product, for example:
I have mixed feelings about these cables. Yes, they have unprecedented clarity and range, but they are silver, which is chock full of small hadrons. If, like me, you are an audiophile particle physicist, you'll know that small hadrons degrade the transmission of audio signals by decohering individual notes, particularly quarter tones that have been reflected off of acoustic surfaces. Additionally, the quality of silences is tranquil, but not peaceful; Philip Glass's note-free "4'33" fails to achieve the the subtlety of a live performance. […]
The REALLY good news is that the Large Hadron Collider (LHC) is up and running again. They're making anti-hydrogen right now, but the long-term goals are anti-copper and then anti-silver. Once they are able to create these antimatter elements and keep them stable for more than a few microseconds, we'll finally be able to get cables with large hadrons and few, if any, small hadrons. Not only will these cables transmit quarter tones accurately, but the large hadrons will ensure sonic accuracy of silence by properly managing the strange and top quarks on the electromagnetic signal.
But the single "most helpful" (and also most troubling) customer review was this one: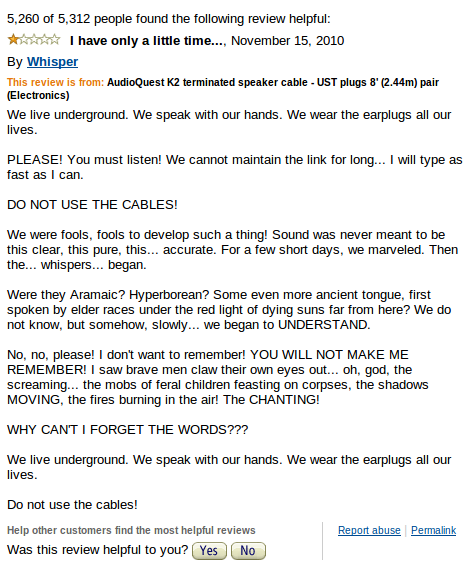 See "It was the linguists", 2/28/2008, for another short but poignant example of the "Sapir-Whorf horror" genre.
There are also some nice Customer Images for this product. My favorite: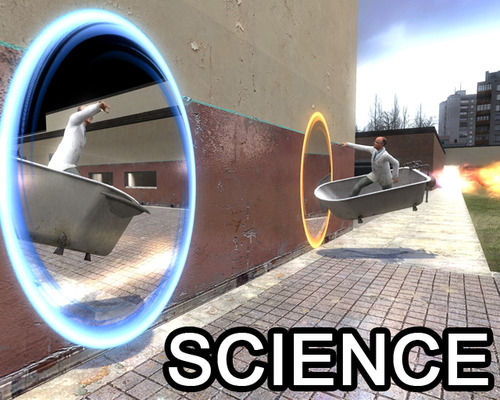 We built it with science
More on the parsing of "large hadron collider" is  here.
[Tip of the hat to uhpinions.com]
---