« previous post | next post »
At some point early in the morning of September 1, 2011, we logged our millionth spam comment:

Unfortunately, I didn't get a screen shot until this morning, so the counter is up to 1,008,782, and I similarly failed to put procedures in place to determine which spam site actually placed the millionth feeble attempt.

The complete number of spam-comment attempts is in fact somewhat larger, since this total only counts the attempts that are detected automatically by Akismet, and some spam comments are deleted by hand after fooling the automatic detector. On the other hand, Akismet's total includes some genuine comments that were trapped as well. I don't have time to check everything in the spam trap, since several thousand attempts a day are now logged — I usually find out about a false positive when someone sends me email to complain about it.
1,008,782 spam comments in 1220 days (since April 30, 2008, when I installed our new WordPress software) is 827 spam comments per day, on average. However, spam comment attempts have increased along with our readership, which is now at an average of 27,176 visits and 42,922 page views per day.
Update — approximately 24 hours later, we're up to 1,013,210: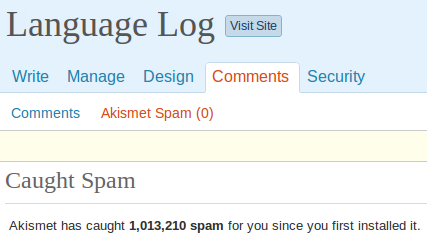 …for an increment of 4,428. Some days I think we get as many 8-9 thousand, some days as few as 1,000 or so.
Update #2 — and on the morning of September 12, 11 days later, we're at 1,054,064, for an average of (1054064-1008782)/11 = 4,117 per day.
---