« previous post | next post »
Tom Porter, "New York Times cross word: NRA spokeswoman denies bizarre threat to 'fist' the publication", Newsweek 8/5/2017:
A National Rifle Association spokeswoman in a bizarre dispute denied that she threatened to "fist" the New York Times in a video atacking [sic] the publication.
In a video released Thursday entitled "Dana Loesch: We're Coming For You New York Times," former conservative radio host Loesch staring straight to camera accuses the publication of spreading "fake news," and promoting  "constant protection of your democrat overlords."
However one section containing an unclear short f-word prompted debate on Twitter. 
"We're going to [unclear] the New York Times and find out just what deep rich means to this old gray hag, this untrustworthy dishonest rag that has subsisted on the welfare of mediocrity for one two three more decades," Loesch said. "We're going to laser focus on your so-called honest pursuit of truth. In short we're coming for you."
You can watch the whole thing here. This is the relevant passage:
And the crucial segment: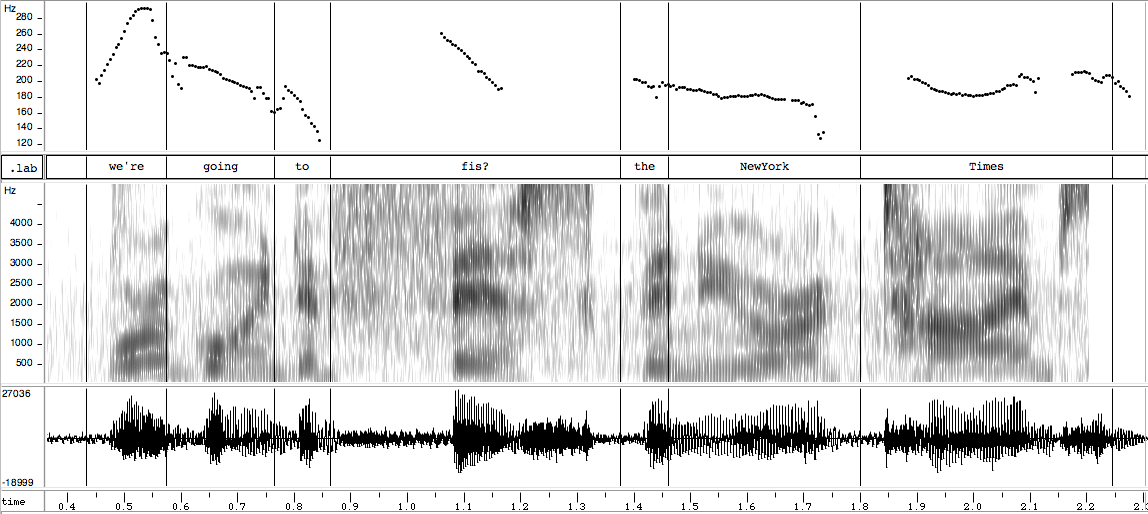 As expected in contemporary American English, the /k/ or /t/ of fisk or fist is unreleased, and merges acoustically as well as articulatorily with a stop-like allophone of the initial /ð/ of the following word the. In the version of the spectrogram below, I've indicated the merged stop gap with a red double-headed arrow. There's a bit of spectral energy around 2000 Hz at the end of the /s/ frication — marked with a blue oval below — that might be an indication of velarity, but frankly I think the recording is completely ambiguous as to whether Ms. Loesch said "fisk" or "fist":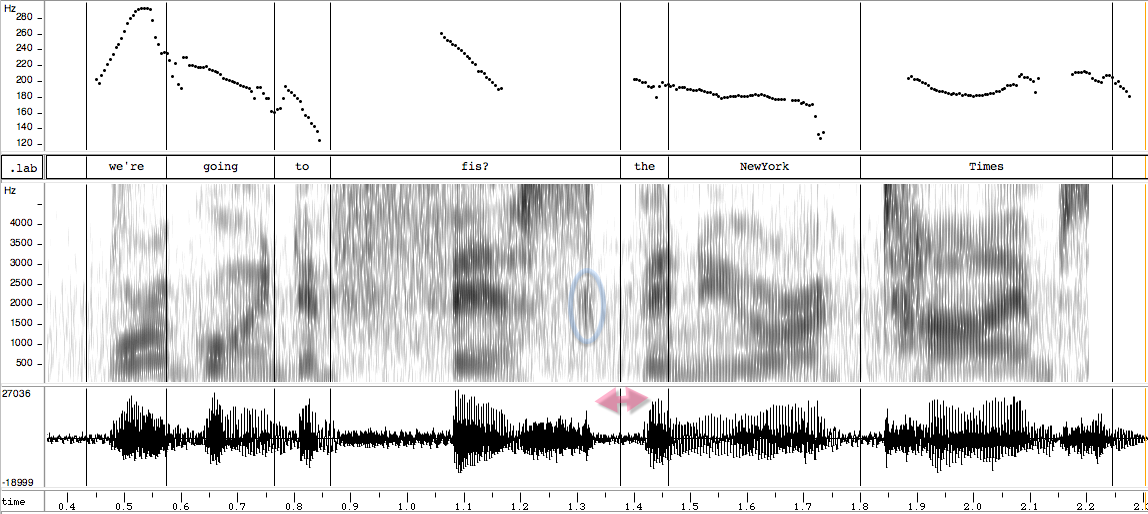 I'm confident that Ms. Loesch meant to say "fisk". But apparently not everyone is as conversant with 2003-era blogging lingo as they are with terminology for extreme sexual practices.  I have some personal experience that leads me to sympathize with Ms. Loesch on this lexicographical point: In January of 2004, I proposed "fisking" as a candidate for the American Dialect Society's 2003 Word of the Year, and was reminded that not everyone has the same linguistic experience:
One thing that surprised me at the ADS "Word of the Year" nominations session was that very few of the participants had ever heard of the term fisking. I nominated it but there was no uptake. Only one of the 30 or so people in the room indicated any familiarity with the word at all, and that was Grant Barrett, the webmaster of the ADS site. He argued that the word is limited to a small circle of ("like 23") warbloggers, who use it in a self-conscious way intended to spread it, rather than as a natural part of their vocabulary, and that it was unlikely to spread outside that narrow group or even to last as an item of subculture vocabulary. Given that no one else in the room seemed even to have heard of the word, I let it drop. ["ADS Word Of The Year is Metrosexual", 1/10/2004]
There's been quite a bit of twitter and media fuss about the "We're coming for you" video — "Fist Or Fisk? NRA's Bizarre Ad Has A Confusing Message For New York Times"; "Dana Loesch shoots down journalists who misheard her when she said NRA wants to 'Fisk' the New York Times"; "'Fisk' is currently one of Dictionary.com's most searched words thanks to an NRA video threatening The New York Times"; "Apparently, the NRA Does Not Want to 'Fist' the NYT, but It's Still 'Coming for' the NYT"; ""We're going to ???? the New York Times""
---
---
Dana just tweeted at me saying she said "FISK" not Fist" – but I have to note the NRA tweet included #ClenchedFistOfTruth as a hashtag. https://t.co/DDJw2ydlZS

— Yashar Ali (@yashar) August 4, 2017
---
---
Dana Loesch fans pretending that they had heard of the word fisk before like 5 minutes ago. pic.twitter.com/LUkPhi1cYq

— MeltLikeButta (@jwbutta) August 4, 2017
---
---
"Fisk. Now that's a word I've not heard in a long time. A long, long time." pic.twitter.com/vCC5UQkj3D

— Daniel W. Drezner (@dandrezner) August 4, 2017
---
---
FWIW, "fisk" was a fairly current blogging term abt a dozen years ago. And @nra has used #clenchedfistoftruth as a hashtag prior to …

— Josh Marshall (@joshtpm) August 4, 2017
---
So maybe fisk will now be able to make the transition out of lexicographical purgatory? We can only hope.
---