« previous post | next post »
By lexicographical synchronicity, the latest Widgetitis illustrates the developing distinction between alpha and beta nerds, while Ben Zimmer discusses the history of the word and the concept ("Birth of the nerd: The mysterious origins of a familiar character", Boston Globe 8/28/2011.)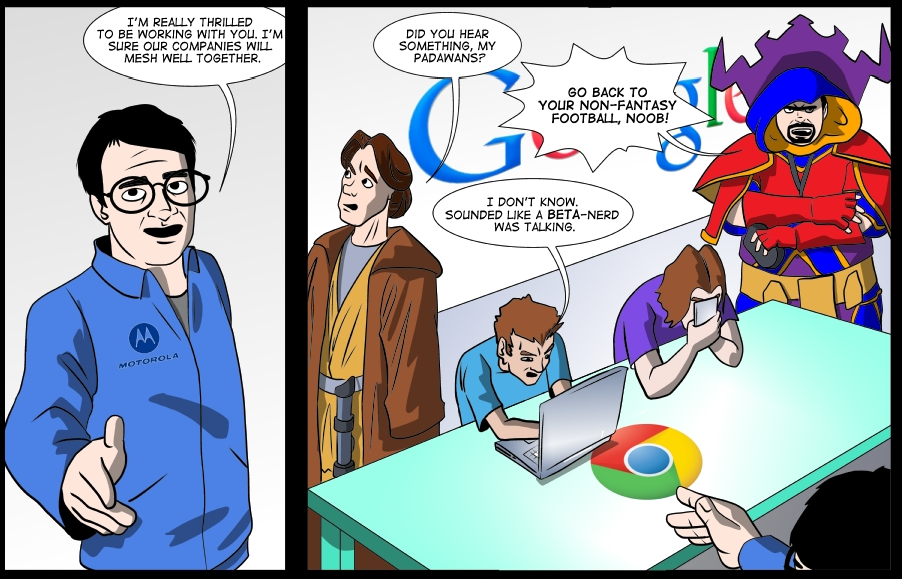 Ben pegs the earliest known use in print to
an Oct. 8, 1951, Newsweek article rounding up teenager talk from around the country. "In Detroit," according to the article, "someone who once would be called a drip or a square is now, regrettably, a nerd, or in a less severe case, a scurve."
But the etymology remains obscure — read the article for a survey of the candidates. Ben closes by quoting Arnold Zwicky:
Perhaps all of this etymologizing is beside the point. Arnold Zwicky, a linguist at Stanford University, says that whimsical words like nerd "don't necessarily have a historical source of the ordinary sort," but instead may be inventions drawing on "distant echoes of an assortment of existing words."
T. Campbell, the author of Widgetitis, presupposes that the combination of beta with nerd will be obvious to his readers, adding the comment:
By most accounts, the Motorola-Google merger isn't exactly one that puts employees of both companies on an equal footing. I wish I could believe that alpha nerds are beyond such things as cliquishness, but I'm afraid I've seen too much evidence to the contrary.
I think this presupposition was correct, though the ever-unreliable Urban Dictionary includes (among others) the following two glosses for alpha nerd:
[T]he Alpha Nerd is, as in software development, the lowest of the nerd hierarchy. […] The Omega Nerd is the highest of the nerd hierarchy.
The highest ranking member in a Nerd Herd. Usually the most intellectual, intelligent, awesome, and most far out nerd in the group.
As for the history of the term, the earliest use known to Google Books seems to be in Douglas Rushkoff's 2001 novel Exit Strategy:
After one of his infamous stay-awak-for-a-whole-month-on-other-kids'-Ritalin binges, Jude emerged having successfully hacked a feature in Microsoft Office that was originally intended to allow the company to conduct market research on consumers through the Internet. Then, he and Reuben — our alpha-nerd — exploited this security breach to create a tiny e-mail virus that could alter the functioning of Office in any way we wanted.
The term occurs several times in Mark Leibovitz's The New Imperialists, 2002:

LexisNexis find an example from the Montreal Gazette, 4/20/1999:
Allen's warning was based on the punishingly high level of taxation in Canada, which makes it hard to hire or to hold on to top talent. That's particularly true in a field like high-tech, where competition across North America for the best people is so fierce that it sometimes seems that alpha nerds change jobs the way other workers change their shirts.
And a possible 11/4/1997 example from Melbourne's The Age:
Isn't it fantastic (and rare) when a bit of techno jargon actually makes sense? In Net-speak, the word "thread" usually refers to a "topic thread", hyperlinks that connect a continuous series of USENET postings. As in real-life speech, following a thread on the Net means to read a series of USENET postings that share a subject or are connected by reference headers. Threads can be handy and fun; when a search hits a segment of an on-line conversation, Web prowlers can follow the hyperlink threads back to its beginning or forward to its present state. They can also be stunningly dull, as many such conversations are carried out among high-alpha nerds whose idea of a good time is debating the lifespan of charges in floating transistor gates.
(I'm not sure what "high-alpha" means here, so perhaps this is not actually relevant…)
All this suggests that the term came into use during the peak of the Great Dot-com Bubble. But it wouldn't be a shock to lean that someone used it between 1951 and 1999,  since it's a perfectly compositional combination of nerd with the sense of alpha glossed by the OED as
The dominant animal, esp. within a single-sex group. In extended use (sometimes with humorous or depreciative connotations): a person tending to assume a dominant role in social or professional situations, or thought to possess the qualities and confidence for leadership. Freq. attrib.
---