« previous post | next post »
Less than 50 years ago, this is what the future of data visualization looked like — H. Beam Piper, "Naudsonce", Analog 1962:
She had been using a visibilizing analyzer; in it, a sound was broken by a set of filters into frequency-groups, translated into light from dull red to violet paling into pure white. It photographed the light-pattern on high-speed film, automatically developed it, and then made a print-copy and projected the film in slow motion on a screen. When she pressed a button, a recorded voice said, "Fwoonk." An instant later, a pattern of vertical lines in various colors and lengths was projected on the screen.
This is in a future world with anti-gravity and faster-than-light travel.
In 1962, there were already computer-controlled CRT displays, though I think they were all vector-based (because the memory needed to control a raster display would have been so large and expensive, I guess).
For example, here's the SAGE Operator's Console: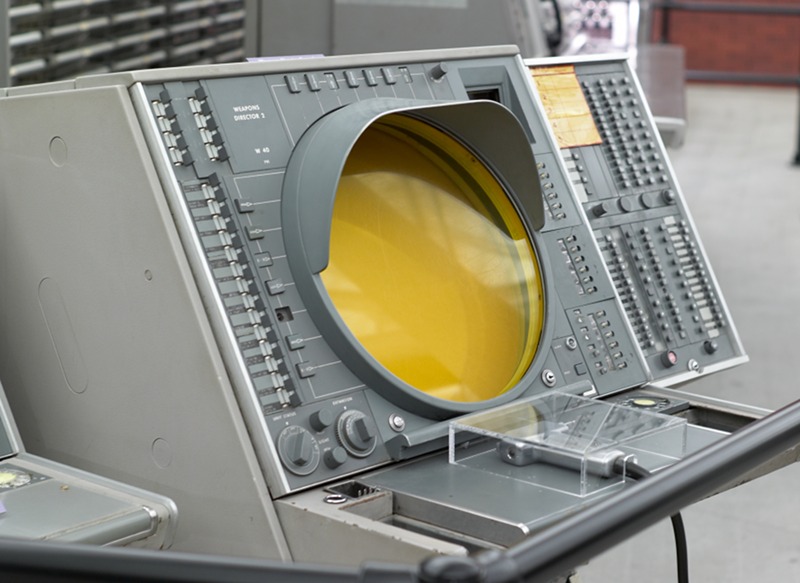 [In keeping with another convention of the science fiction of H. Beam Piper's era, in which everybody smokes, the SAGE console does have a built-in cigarette lighter and ashtray.]
Ivan Sutherland's 1963 Sketchpad system was implemented on a
ten bit per axis electrostatic deflection system able to display spots at a maximum rate of about 100,000 per second. The coordinates of the spots which are to be seen on the display are stored in a large table so that computation and display may proceed independently.
I haven't been able to determine when the first descriptions of raster graphics devices became available. But in the 1940s, engineers at Bell Labs built an (analog) real-time spectrograph that used a fluoroscope-type screen for display, described in Potter, Kopp, and Green, Visible Speech, 1947.
So it's interesting that an imaginative writer in 1962, a dozen years after the first color television broadcasts, couldn't imagine a display for the "visibilizing analyzer" that didn't involve the automatic development and printing of "high-speed film".
---